Europe
World News
Pope rejects resignation of senior French cardinal convicted of abuse cover-up
Pope Francis, the head of the Roman Catholic Church, has turned down the resignation of French Roman Catholic cardinal Philippe Barbarin, who has been convicted of child sex abuse cover-up, sparking criticism from the European country's senior Catholic clerics and abuse victims.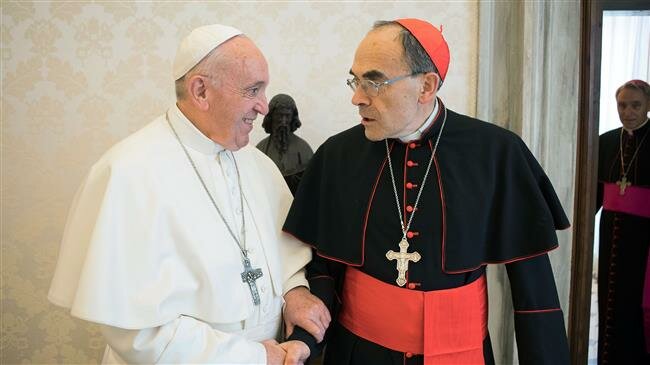 A court in Lyon ruled on March 7 that Barbarin had failed to report allegations of sexual abuse of boy scouts by a priest under his authority in the 1980s and early 1990s, handing down a six-month suspended prison sentence to the cardinal.
Barbarin denied any wrongdoing, launched an appeal and offered his resignation to Pope Francis.
The French cardinal, however, said in a statement on Tuesday that Pope Francis rejected his resignation.
"Monday morning, I handed over my mission to the Holy Father. He spoke of the presumption of innocence and did not accept this resignation," Barbarin said.
He added that he would stay out of day-to-day activities at the pope's "suggestion" for "a little while," but he would remain head of the dioceses in title and would continue to sign off on documents.
Pope Francis' move came only weeks after he said "no abuse must ever be covered up, as has happened in the past," running contrary to the Vatican's struggles to deal with a global pedophilia scandal that has rocked the Roman Catholic church.
Pope Francis admits to yet another scandal in the Roman Catholic Church by publicly confirming that nuns have been sexually abused by priests and bishops.
The decision was met with expressions of anger and surprise by France's top Catholic clerics and victims of sexual offenses.
The chairman of the Bishops' Conference of France — which represents top French Catholic clerics – described the decision a "surprise" which creates an "unheard of" situation.
Francois Devaux, a co-founder of the French Association of victims of priests abuse, said Pope Francis has made "one mistake too many."
"I think that man (the pope) is going to manage to kill off the church. It's a mistake too many. It just shows how right we are and how this whole problem is part of the dogma," he said.
Pierre-Emmanuel Germain-Thill, another member of the association, criticized the pope's decision as "shocking," stressing that the initial condemnation by a court could not simply be ignored.
The pontiff had defended Barbarin back in 2016, when he first faced his charges, saying that his resignation before a trial would be "an error, imprudent."
The news follows a series of sexual abuse scandals, which have severely tainted the image of the Holy See.
Pope Francis came under fire last year for not responding decisively to the Church's sex abuse offenses after it was revealed that children, mostly boys, were being abused by clergymen in their congregations across the world.
Australian Cardinal George Pell has been sentenced to six years in jail by an Australian court for sexually abusing two choir boys in the 1990s.
Less than a week after Barbarin's conviction, Cardinal George Pell, a former Vatican treasurer and adviser to Pope Francis, was sentenced to six years in jail by an Australian court for sexually abusing two choir boys in the 1990s.
A Gallup poll revealed last week that an increasing number of Catholics in the United States are re-examining their commitment to the religion as more allegations of sexual abuse by priests are coming to the surface.