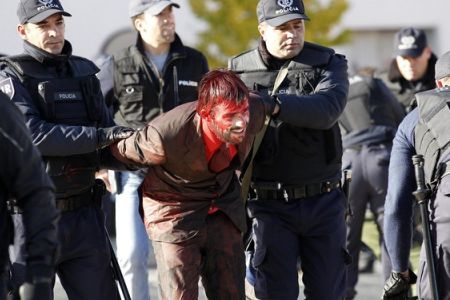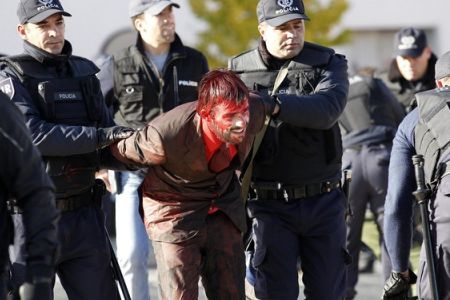 Police have arrested more than forty anti-war activists who protested during the North Atlantic Treaty Organization (NATO) summit in Portugal's capital, Lisbon.
Scuffles broke out between police and protesters near the venue of the meeting after anti-war activists blocked one of the main entrances to the NATO summit, Reuters reported.
Demonstrators chanted slogans against the war in Afghanistan and the plan to install a missile system across Europe.
A statement from the activists read, "We are using civil disobedience to highlight the violence committed by NATO in Afghanistan. They are meeting here today to perfect their arsenal of destruction."
Similar demonstrations were held on Thursday and Friday.
More than 200 people have been barred from entering Portugal since Tuesday, when the security forces set up border checks on the country's shared border with Spain for the first time since 2004.
NATO's Secretary General Anders Fogh Rasmussen said during the opening of the summit that the US-led military alliance will remain in Afghanistan for "as long as it takes" to finish off its "enemies" there.
US President Barack Obama is scheduled to hold talks on the sidelines of the summit with Afghan President Hamid Karzai, who has signed a long-term security partnership with NATO, the state-funded BBC reported.
The two officials are expected to discuss foreign forces' withdrawal as well as the reconciliation talks with the Taliban.
Earlier, NATO said it would hand over security to Afghan forces by the end of 2014. An exit strategy from Afghanistan is expected to be announced at the summit.
The western military alliance started the Afghan war nine years ago to root out Taliban militants.
NATO has, however, admitted that the militants have increased their power in Afghanistan since the war began.