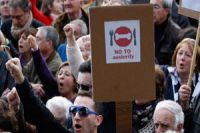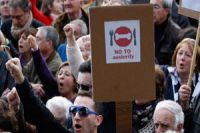 The Portuguese government has slammed the country's Constitutional Court's recent ruling that rejected some parts of the state-prepared budget for 2013.
According to AFP, an emergency meeting between Prime Minister Pedro Passos Coelho and President Anibal Cavaco Silva was held on Saturday, a day after the court ruled to discard four out of nine austerity cuts stipulated in the coming budget, stating they were "unconstitutional."
Among the four rejected items were cutting an extra month's summer pay for civil servants and pensioners as well as reducing unemployment benefits and sick leaves.
Secretary of State for the Presidency of the Council of Ministers Luis Marques Guedes said "The government does not agree with the interpretation of the constitution made by the constitutional court about some of the measures included in the 2013 state budget." He said "The decision taken by the constitutional court has left the country facing serious difficulties in terms of fulfilling the international commitments and budget objectives."
According to the Portuguese government, the ruling affected not only the budget but also damaged the country's credibility in the eyes of international partners and creditors.