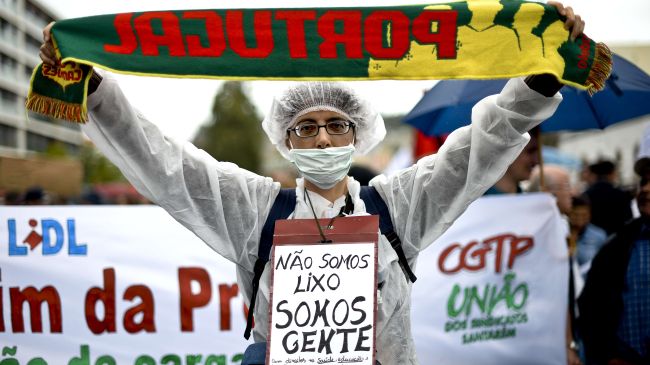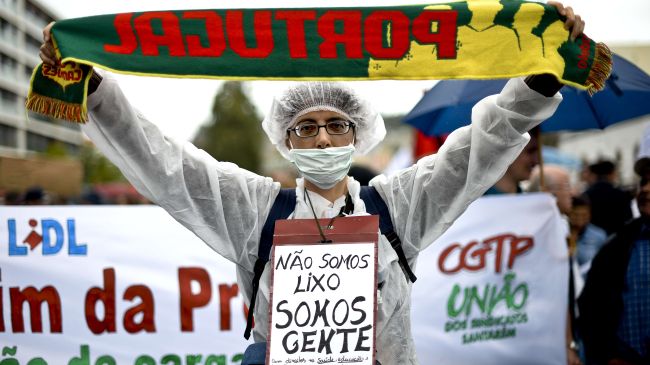 Portuguese public workers have gone on a 24-hour nationwide strike to protest against the government's new round of wage and pension cuts.
Among those who joined the walkout on Friday were hospital workers, teachers and trash collectors.
Medical workers had hung banners along the railings of hospitals reading, "Against the dismantling of the state" and "Hard-won rights cannot be stolen."
Protesters are against the government's new austerity measures introduced in the country's budget for 2014.
"The Portuguese will not accept more salary cuts and sacrifices," said unionist, Ana Avoila.
Among the budget measures were an increase in the public sector workweek by five hours, slashes to retirement pensions by 10 percent as well as salary cuts up to 12 percent for those who earn more than 600 euros a month.
The new cuts are required by the troika of international lenders — the European Union, the European Central Bank, and the International Monetary Fund — which granted Portugal an emergency loan worth 78 billion euros (about USD 107 billion) after Portugal's borrowing costs soared to unsustainable levels in 2011.
The public sector walkout followed a number of strikes in the transport sector, including railway and city bus services as well as massive demonstrations.
Despite the recent protests, the Portuguese government has shown no signs of changing its mind about the austerity measures, as it hopes to complete the bailout program by next June.