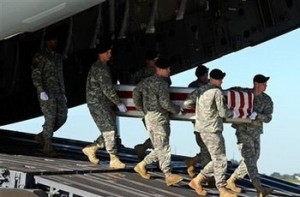 A powerful explosion, triggered by an improvised explosive device, has killed one more American solider in war-weary Afghanistan.
NATO said in a statement that the soldier died in the south of the country on Thursday.
The alliance did not identify the exact location of the blast.
The death brings to 23 the number of US-led troops to have been killed in the controversial war so far this year.
Much of the southern provinces of Helmand and Kandahar are gripped by violence and militancy.
However the violent battles between Taliban militants and US-led forces have spread to previously peaceful regions.
US President Barack Obama and his NATO allies have decided to send 40000 additional troops to Afghanistan
Deploying more soldiers to Afghanistan is expected to cause more troubles for Afghan civilians.
Civilians have been the main victims of the long-fought war as they are being killed both in violence-related incidents carried out buy militants and also by US-led operations, particularly indiscriminate air strikes.
Coalition forces play down the civilian deaths by referring to them as 'Collateral Damage.'