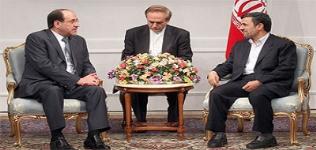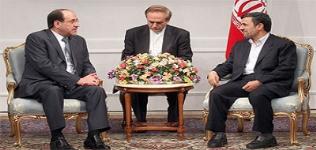 Ahmadinejad made the remarks in a meeting with Iraqi Prime Minister Nouri al-Maliki in Tehran on Sunday.
He called Tehran-Baghdad ties exemplary and said that there is no obstacle in the path of consolidating relations between the two countries at regional and international levels.
Tehran, Baghdad share 'unbreakable' relationship
During a separate meeting earlier in the day with al-Maliki, First Vice President Mohammad Reza Rahimi said that the Islamic Republic and Iraq enjoy a "unique and unbreakable" relationship.
Rahimi said that Maliki's visit to Tehran will help open a new chapter in relations between the two neighbors and a step forward in efforts to cement ties in all spheres.
The conspiracies against the Iranian and Iraqi nations have their roots in the beliefs and causes of the two countries' people and if they are fully united, they will form a great power in the world, Rahimi said.
He emphasized the need to accelerate the implementation of previous agreements between the two countries and said that Iran and Iraq should take the measures necessary to promote cooperation in various areas.
"Political, cultural, and economic relations between the two countries are at a high level and we hope that obstacles in the way of promoting ties further will be removed as soon as possible," Rahimi said.
During the meeting, Maliki called for the expansion of relations based on the principles of peace, stability, and common interests and said that Tehran-Baghdad political relationship is close but the two countries should make every effort to enhance ties in other spheres as well.
There is a need for a great stride in relations, he said, adding the two countries' officials are determined to cement ties in all areas.
Maliki also met with Iranian Majlis Speaker Ali Larijani and held talks on various issues including the latest developments in the region and the world.