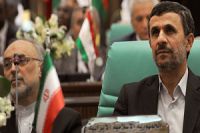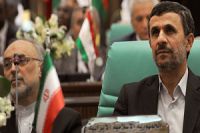 Iranian President Mahmoud Ahmadinejad stressed the rapid trend of changes in the contemporary world, and called for unity among all independent states.
"Today, the conditions in the world are witnessing many changes and independent nations should stand beside each other to achieve justice and humanity," Ahmadinejad said in a meeting with Bolivian Minister of Foreign Affairs David Choquehuanca here in Tehran today.
He further noted that current changes and developments in the world serve the causes of the justice-seeking nations.
The Bolivian minister, too, called for unity among independence states, and said, "The independent nations and states should use their power and ability within the framework of a strengthened and stable alliance to confront those who have sown the seeds of devilishness and disappointment in the world."
President Ahmadinejad has on many occasion underlined the necessity and need for the establishment of a new world order, saying that the current unjust order has failed to resolve global problems and, thus, reached its end.
He added that corrupt rulers are trying to maintain their power through intimidation, pressure, misinformation and propaganda campaign.