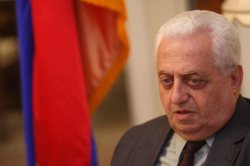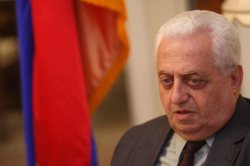 Armenia's Ambassador to Iran Grigor Arakelyan says Iran's President Mahmoud Ahmadinejad will be Armenia's special guest on Friday.
Talking to IRNA, Arakelyan said the Iran-Armenia trade, that showed a 40 percent growth last year, would figure prominently in President Ahmadinejad's talks with top Armenian officials.
He said the the President will visit Armenia at the official invitation of Armenian President Serzh Sargsyan.
The diplomat said President Ahmadinejad was to visit Armenia Republic a few months ago but the trip was postponed because the documents supposed to be signed by the two countries had not been prepared.
Elsewhere in the interview, the ambassador commented on Tehran-Yerevan "excellent" ties as is testified by frequent exchange of visits by the two sides' officials.