Iran
President Ahmadinejad: Enemies Unable to Impede Iranian Nation's Progress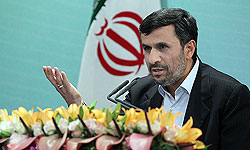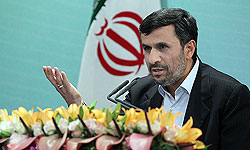 Iranian President Mahmoud Ahmadinejad downplayed western states' attempts to block the country's progress in different scientific and technological fields, and stressed that enemies cannot prevent the Iranian nation from continuing its path.
Ahmadinejad said on Thursday that the Iranian government will not retreat from the principles and values of the nation, stressing that the enemy will receive a heavy blow from the Iranian nation.
"I assure the Iranian people that the government will not retreat even one iota from their rights, principles and values against the declining materialistic powers, even if they (the enemies) mobilize their past and future (capabilities) and get accompanied by certain parties inside the country," he added.
Ahmadinejad said that the main enemies of the Iranian nation and the Islamic Revolution have waged a major battle and mobilized their utmost power and capability but the Iranian government strongly resists against them.
"The enemy deals a blow to the Iranian nations step by step; but, in return, it receives a stronger, heavier blow," he said.
Ahmadinejad emphasized that the Iranian nation's path cannot be stopped.
He noted that the hegemonic system opposes the Iranian nation only because of the high speed of its progress in various sectors such as industries, science and technology.
The chief Iranian executive stated that the enemies thought that they can achieve their objectives in a long-term fight with the nation but they would be obliged to retreat as "we take more steps towards the future."
The ongoing global situation shows the dissatisfaction of the people across the world; now there is a tendency to make a change in the globe, he noted.
Iran is under four rounds of UN Security Council sanctions for turning down West's calls to give up its right of uranium enrichment, saying the demand is politically tainted and illogical.
Tehran has dismissed West's demands as politically tainted and illogical, stressing that sanctions and pressures merely consolidate Iranians' national resolve to continue the path.
The US-led West accuses Iran of trying to develop nuclear weapons under the cover of a civilian nuclear program, while they have never presented any corroborative evidence to substantiate their allegations. Iran denies the charges and insists that its nuclear program is for peaceful purposes only.
Tehran stresses that the country has always pursued a civilian path to provide power to the growing number of Iranian population, whose fossil fuel would eventually run dry.
Political observers believe that the United States has remained at loggerheads with Iran mainly over the independent and home-grown nature of Tehran's nuclear technology, which gives the Islamic Republic the potential to turn into a world power and a role model for other third-world countries.