Iran
President Ahmadinejad Terms Foreign Forces "Threat to Regional Peace"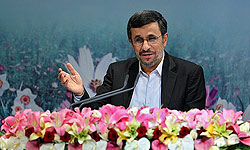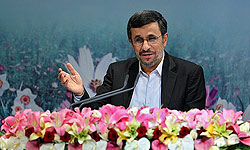 Iranian President Mahmoud Ahmadinejad described the trans-regional forces as the source of insecurity in the region, the Persian Gulf in particular, and stressed that the regional countries can maintain peace away from foreign interference.
Addressing a ceremony honoring the Iranian Navy in the Southern province of Hormozgan on Saturday, Ahmadinejad said the Persian Gulf has been threatened at points only when outside militaries appeared in the region, otherwise the Persian Gulf has always enjoyed complete security.
"Aliens, proclaiming (efforts) to establish security in the Persian Gulf, with any motivation and under any pretext whatsoever, can never achieve success," he added.
Elsewhere, the Iranian president said the country's defensive capabilities have enabled the Islamic Republic to maintain stability and security in the Persian Gulf.
"The Islamic Republic of Iran, using regional potentials and forces, has the power to establish and stabilize security in the region," Ahmadinejad stated.
He further reiterated Iran's respect for its neighbors' sovereignty and territorial integrity.
Iranian officials have always cautioned about the negative impact of foreign military presence in the region, and stressed the necessity of collective efforts to resolve problems now and in future.