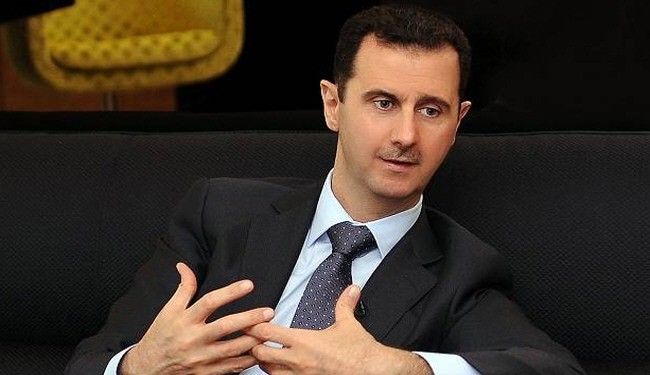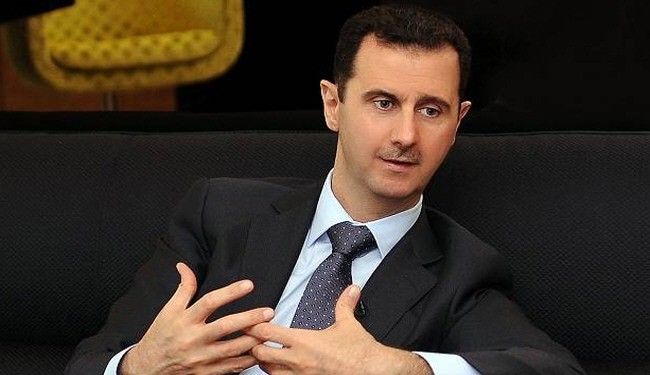 Syrian President Bashar al-Assad has said that as long as Saudi Arabia continues sending arms and money to Takfiri extremists, the war in Syria can see no end.
According to an article in Lebanese daily Al Akhbar newspaper, Bashar Assad met with several political leaders from regional Arab countries '10 days ago' in which they discussed the condition in Syria and ways to end the ongoing deadly crisis in there.
The paper quoted one of the attendants of the meeting who interviewed with Al Akhbar on condition of anonymity.
According to the source, Assad said, Syrian government is dealing with terrorism in several fronts and the country is facing with a massive war supported by foreigners.
"We knew from the beginning that this is a war against our independent rule and this independent ruling has been the main factor driving our resistance and victory," the source quoted Assad as saying.
He added that Assad appreciated those countries that allied with them in their resistance against terrorism, especially the Russian government which Assad said their support to Syria was not just for Damascus but also for protecting their interests.
The source says Assad told the meeting that foreign support to the militants must stop if an end to the war is sought.
"Time" and "requirements" for ending the war depends highly on halting illegal foreign supports to the armed groups.
"Saudi Arabia and others are strongly supporting terrorism and have deployed tens of thousands of Takfiris in Syria; Saudi Arabia has even been paying 2,000 dollars a month to each militant as a salary," the source quoted Syrian president.
Stopping supporting militants at the side of Saudi Arabia will have 'definite results' in all aspects, Assad told the meeting adding that, "now everyone knows al-Qaeda is not just a threat to Syria".
Saudi Arabia, along with Qatar and Turkey have been strongest supporters of the war in Syria with Riyadh and Doha spending billions of dollars to support militants.
Saudi Prince Bandar bin Sultan, who is Director General of the Saudi Intelligence Agency has been referred by many as a one of the main figures leading the war against Syria.
The source further said Assad was not optimistic about finding a solution to the war in the near future and said as long as foreign threat and support exists, they can't stop fighting against them.
Syrian president also said Saudi Arabia's role in the war cannot be neglected. "Saudi Arabia is leading the most extensive vandalism operation in the whole Arab world," the source quoted him as saying.
Assad was also critical of what he reminded the attendants of Saudi Arabia's role in Camp David Accord that normalized Israel's ties with Egypt and also Riyadh's support to the war against Lebanon in 1982.
In return, he praised Iraqi Prime Minister Nouri al-Maliki for his 'brave' stance towards those who wished to harm Iraq.
Syrian president warned Arab political leaders in the meeting about threat of extremism and Wahhabis, as the source said.
Assad was quoted that presence of extremist in the region was a plot for keeping the Arab world retarded.
"I want to remind you that the West never wants to see us developed. I remember when I met former US foreign minister Colin Powell in 2003, he was telling me US conditions about managing relations with Iraq and he asked us not to ever let an Iraqi scientist to set foot in Syria and we rejected this offer, and the US and Israeli spying organizations killed many of these scientist and now they want to empty Iran from brains," the source quoted Assad as telling the meeting.
Assad furthermore stressed that his government rejects all kinds of Takfiri and Wahhabi thoughts.
The war in Syria started in March 2011, when pro-reform protests turned into a massive insurgency following the intervention of Western and regional states.
The unrest, which took in terrorist groups from across Europe, the Middle East and North Africa, has transpired as one of the bloodiest conflicts in recent history.
According to the United Nations, more than 100,000 people have been killed and millions displaced due to the turmoil that has gripped Syria for over two years.