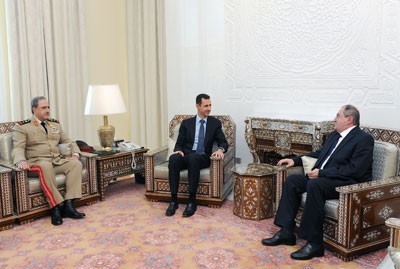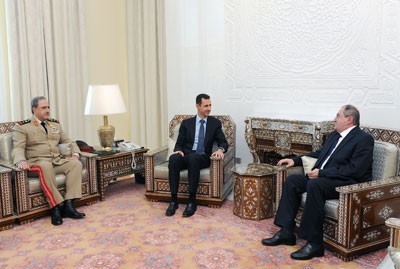 President Bashar al-Assad on Monday discussed with the Lebanese Defense Minister Fayez Ghosn cooperation and coordination between the Syrian and the Lebanese armies.
President al-Assad expressed appreciation of the Lebanese Army's great efforts in coordination with the Syrian counterpart to monitor the borders between the two countries which helped foil several weapons smuggling attempts targeting the two countries' stability and security.
The Syrian Defense Minister Dawood Rajiha attended the meeting.
In the same context, General Rajiha and Minister Ghosn discussed cooperation relations between the two brotherly armies and means of enhancing them.
The meeting was attended by Chief of Staff Fahd Jassem Al-Freij, senior officers and the delegation accompanying the Lebanese Minister.