Syria
President al-Assad Meets Brahimi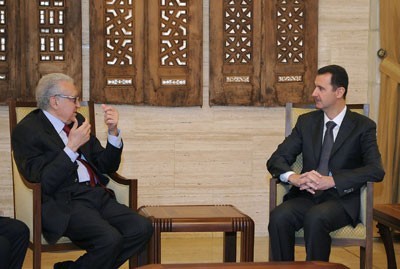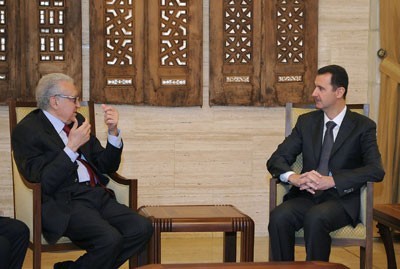 President Bashar al-Assad has stressed Syrian government's keenness on the success of any efforts that pour in interest of the Syrian people and preserve the sovereignty and independence of the homeland.
That came during President al-Assad's meeting with UN envoy to Syria, Lakhdar Brahimi, and the accompanying delegation on Monday.
President al-Assad talked about the latest developments in Syria as Brahimi briefed President al-Assad on the results of the contacts and talks he recently held to help solve the crisis in Syria.
Cooperation between the Syrian government and the UN Envoy was discussed where the talks were cordial and constructive.
The meeting was attended by Deputy Prime Minister and Foreign and Expatriates Minister, Walid al-Moallem, Presidential Political and Media Advisor, Buthaina Shaaban, Deputy Foreign and Expatriates Minister, Dr. Faysal Mikdad and Assistant Foreign Minister, Ahmad Arnous.
Speaking to reporters after the meeting, Brahimi said " We talked about problems suffered by Syria at this stage and exchanged views about the steps that could be undertaken in the future," adding "I have talked about the steps that I see could be undertaken to help the Syrian people to exit from this crisis,"
" I briefed President al-Assad on the meetings I held with different officials in the region and outside it as I briefed him on the steps that could be taken to help the Syrian people to get out of the crisis," the UN envoy said.
He denied as " baseless" the news that President al-Assad delayed to accept to meet him during past visits and that he asked the Russians to mediate for the President to meet him or he will resign.
Brahimi said "the situation in Syria is still worrying," expressing hope that " all the parties would move toward the solution that the Syrian people are hoping for and look forward to."