Syria
President al-Assad Receives Islamic Education Preachers, Stresses Need for Emphasizing True Islamic Values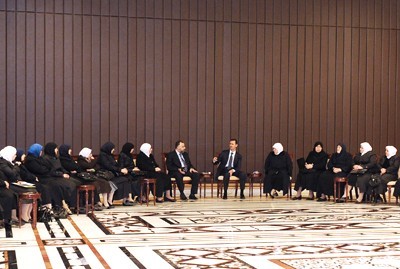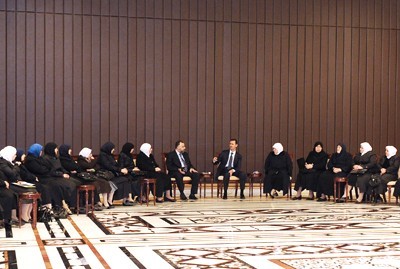 President Bashar al-Assad on Tuesday received Islamic education preachers working in the mosques and Islamic institutes of Damascus and its countryside.
During the meeting, President al-Assad stressed the need for emphasizing the true Islamic values which are based on the great moral values embodied by the Prophet Mohammad.
The President also pointed out to the strong correlation between Arabism and Islam, both of which constitute pillars of the Syrian society.
For their part, the preachers underlined Syria's capabilities for holding Islamic activities, thanking President al-Assad for his support to the pioneering experience of Islamic preaching by women which had a significant positive impact on woman in Syrian society.
The meeting was attended by Minister of Religious Endowments (Awqaf) Dr. Mohammad Abdelsattar al-Sayed.