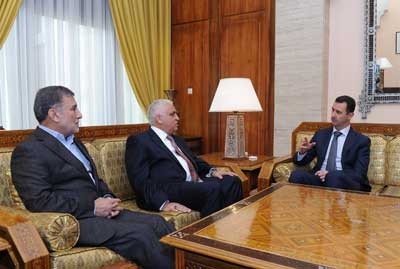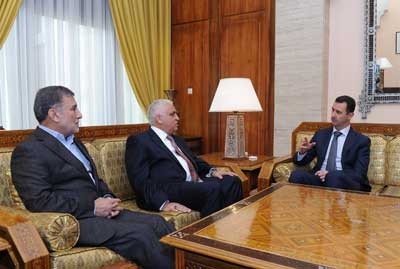 President Bashar al-Assad met on Saturday the Iraqi National Security Advisor Faleh al-Fayyad and the Iraqi MP Izzat al-Shahbandar, envoys of Iraqi Prime Minister Nouri al-Maliki.
The talks dealt with the latest developments in the region, especially the situation in Syria.
President al-Assad expressed appreciation for the genuine efforts exerted by some Arab countries, especially Iraq, to help Syria overcome the crisis, stressing that Syria has reacted positively to all proposals offered to it since it is in Syria's interest that the world knows the truth about the situation amid twisting facts and fabrications.
The meeting also dealt with the bilateral relations between the two brotherly countries and means of bolstering them.
The Iraqi Prime Minister said on Thursday that Iraq will send a delegation to Syria to put forward an Iraqi initiative to launch dialogue between the Syrian leadership and opposition.