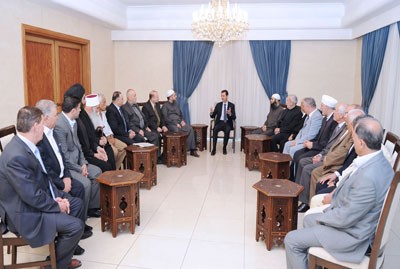 Syrian President Bashar al-Assad stressed that the state is committed to reconciliation efforts aimed at stopping bloodshed in the crisis-hit country.
As he received local community leaders from the Damascus countryside, President Assad affirmed that the "state supports the process of national reconciliation in all Syrian areas based on its commitment to stop bloodshed," official news agency, SANA reported.
Preseident Assad received local community leaders from the Damascus countrysideHe added that he believes that the "crisis cannot be resolved by foreign sides; rather it can only result from the efforts of Syrians alone, because Syrians are the most capable of finding solutions to their problems."
The meeting with dignitaries discussed steps that were realized in terms of reconciliations in areas in Damascus Countryside and efforts to expand them to more areas, particularly since reconciliations produced positive effects on citizens' conditions and daily lives in the areas where they succeeded, SANA noted.
The Syrian leader appreciated constructive efforts exerted by dignitaries in terms of reconciliation despite all the difficulties they face, asserting that the state's establishments seek to bolster the role of dignitaries in consolidating and expanding reconciliations.