Syria
President Assad: Syria owes its resistance against terrorists to Iran's aids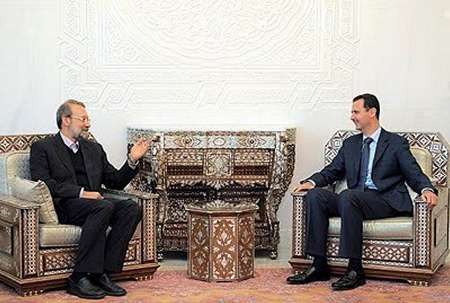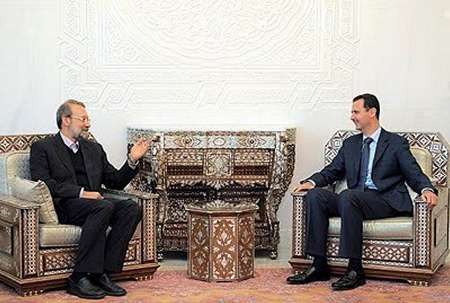 Syrian President Bashar al-Assad said Iran and Syria have always been close to each other and Syria owes its resistance against terrorists to Iran's aids.
President Assad: Syria owes its resistance against terrorists to Iran's aids
In a meeting with visiting Iran's parliament Speaker Ali Larijani here on Sunday afternoon, President Assad described bilateral relations 'very warm' and 'sincere'.
He stressed that Damascus is ready to expand bilateral ties and promote it to strategic relations, because 'it secures common interests for both countries and would be effective in strengthening security and stability in the region'.
Larijani, for his part, said that Syria's efforts to protect the country and its territorial integrity and fight against terrorists is laudable.
'From the beginning, Iran realized that the events in Syria are a plot to expand terrorism, violence, and instability in the region, so we decided to stay with Syrian people and government,' said Larijani.
He added four years after the crisis in Syria, now the Europeans, the West, and the Arab countries have come to the conclusion that Syrian problem has no military solution, but should be solved through political means.
In the first leg of his regional tour, Larijani arrived in Syria on Sunday morning heading a high ranking delegation including Foreign Ministry officials and parliamentarians.
At the airport, Larijani told reporters that Iran supports any political solution, which prevents continuation of terrorist massacre in Syria and is based on democracy and people's vote.
Larijani's regional tour will also take him to Lebanon and Iraq after the end of his Damascus visit.