Iran
Middle East
Palestine
President Downplays 'israeli' War Rhetoric Against Iran
Iranian President Seyed Ebrahim Rayeesi roundly dismissed Israel's military threats against his nation, and stressed that Tehran will not miss a second to devastate Israel the moment it decides to attack Iran.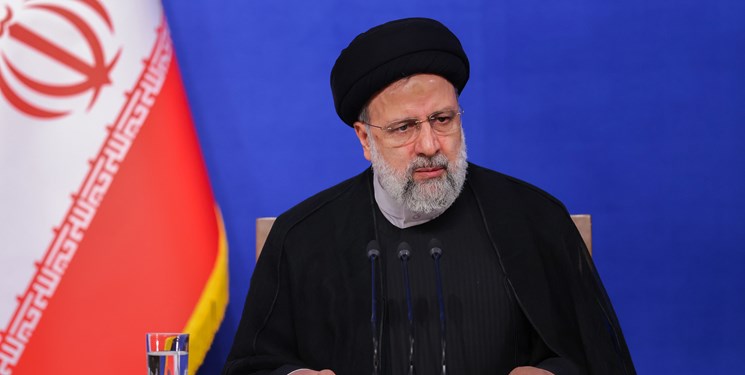 President Rayeesi held a press conference attended by domestic journalists and correspondents from foreign media outlets in Tehran on Monday.
The president emphasized that Israeli officials would not find any opportunity to take an action against Iran, stressing, "They should see whether anything of them would be left once they decide to attack Iran and before they could take action."
"Their threats will not go anywhere. The assassination of nuclear scientists was aimed at stopping this trend. A lot of sabotage acts were carried out in order to stop us, but we didn't stop. They cannot stop us to assert this definite right," Iranian president noted.
"Israel never wanted Iran to have access to nuclear knowhow," Iranian president stressed, but nobody can deprive the Iranian nation of "its inalienable right to access peaceful nuclear technology".
"We have stated time and again that nuclear weapons have no place in our nuclear doctrine. The Leader of the Islamic Revolution (Ayatollah Seyed Ali Khamenei) has frequently announced that the acquisition of such armament is religiously forbidden. We also declared in our foreign policy that these munitions have no place in our foreign policy," he added.
Analysts in Tehran believe that Israel and the United States are strategic partners and Tel Aviv's positions on the Vienna talks play a complementary role to Washington's policy.
"Whenever the US is in trouble in negotiations with Iran and has failed to fulfill its purpose, the Zionist regime steps onto the scene to play a complementary role," senior analyst Seyed Mostafa Khoshchesm told FNA.
"Then, the Israeli regime plays the role of a bad cop and conducts terror operations, cyber and sabotage attacks against Iran to serve the US interests," he said.
He further explained that Israeli JCPOA pro-con debates and media reports are just a ploy to give credit to Tel Aviv's bad-cop role and military threats against Tehran to incite Iran to rush to a deal and, meantime, justify why its military threats have never come true.
"Sometimes, they claim there is a rift between the political institution and the military, sometimes between the military and the security apparatus and even in come cases between two security bodies for this purpose, but it's all just a sham," Khoshcheshm added.
He expalined such debates and different views exist in all countries over a wide range of issues, but they are always kept behind the scene, specially when you are taking a position on an enemy in a bid to display integrity and unity in dealing with foreign threats, the Israeli police state is no exception.
"Moreoever, the Zionist regime is in a fragile state, so it does not show itself in the public opinion at odds with the United States policies. The main goal of Israel is to help Washington get more concessions from Tehran," Khoshcheshm reiterated.
Iranian military officials have underlined the country's high military capabilities and deterrence power in the face of any aggression, underscoring that anti-Tehran rhetoric by the Zionist regime is simply psychological warfare and is insignificant.
Iran describes Israel as the root cause of the region's instability, but also says Israel's US-supported barbarity will not change the inevitable fate of the Tel Aviv regime. Tehran stresses the Tel Aviv regime is on a fast-track towards decline because of the resistance of the Palestinian people.
In mid-August, Spokesman of the Islamic Revolution Guards Corps (IRGC) Brigadier General Ramezan Sharif said that the Israeli regime is in the worst security situation and under intense pressure, adding that Tel Aviv is unable to take any measures against Tehran and only resorts to saber-rattling.
"The Zionist regime is experiencing the worst security condition and is under intense pressure," Brig. Gen. Sharif noted.
He stated that the Zionists have repeatedly claimed that security prevails across the 27,000 square kilometers of occupied Palestinian territories that they control.
Earlier, IRGC Commander Major General Hossein Salami said that there is no safe place for the Zionists in the occupied lands of Palestine, noting that the people in the West Bank are arming themselves similar to Gaza to confront the Zionist regime.
"The Zionists have no safe haven in occupied Palestine and all parts of the land are within the reach of Palestinians resistance movements' firepower," the top commander stated.
Back in July, Iranian Armed Forces Spokesman Brigadier General Abolfazl Shekarchi warned the US and the Israeli regime against any adventurist move in the region, and stressed that they will be forced to pay a heavy price in case of their slightest mistake.
His remarks came in reaction to US President Joe Biden's claim about "resorting to force" against Iran, if necessary, during his recent tour of the West Asia.
The military spokesperson described such a move by the failed president of the United States and the helpless prime minister of the Israeli regime as psychological war and a delusion.
He also advised the Americans and "the Zionists to watch the situation of the region and the world, and review the past once to analyze the future correctly".
Tehran has increased its deterrence and defense power by developing different state-of-the-art missiles.
Iran has repeatedly warned that any mistake by the US and Israel will be met with Tehran's crushing response. Iranian officials say Washington and Tel Aviv are well aware of Tehran's capabilities and capacities, and caution that Tehran does not compromise or joke with its national security.