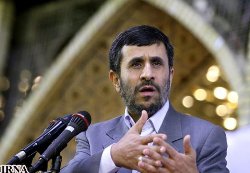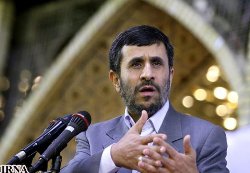 President Ahmadinejad said making missiles, satellites and achieving scientific and technological achievement is result of selfless spirit of Iranians.
President Mahmoud Ahmadinejad made the comment Wednesday night in a meeting with the family members Lorestan Province martyrs and war disabled veterans, awarding some of the republic's medals of highest honor.
He said, "Awarding these medals to you is a sign of the great Iranian nation's appreciations and pointing out that the path towards wellbeing, grandeur and prosperity merely passes through the nations' selflessness."
Ahmadinejad also referring to the ongoing crises in some regional countries said, "There are rich countries in the world with small populations, but the United States easily plays with their fates very easily, so that it removes their rulers one day replacing them with other people, which is due to lack of the spirit of selflessness in such countries."
Ahmadinejad said, "Years ago they used to propagate that the oppressors were at the ultimate peaks of advancement and humanity and unfortunately there were many people that believed those arguments, but today their real nature is unveiled and the nations can see their real faces."
Ahmadinejad said, "This does not mean ignoring the existence of problems in the country, but if we would not get the country out of the troubles caused by the oppressors and would not reform the international system they would not permit us to solve our internal problems."
Ahmadinejad said elsewhere in his address, "The nations are now after finding a new way and a new mentality and this point of time is the moment for the artistic work of the Iranian nation to show them both the way and the goal of living properly and having a selfless spirit."
Addressing the foreign powers, President Ahmadinejad accused them of triggering unrest in Iran aimed at segregating the Iranian nation within our own borders, arguing, "But I assure you that this selfless society would by grace of God hoist the flag of monotheism and justice over the palaces and drag you down from your pharaoh throne.