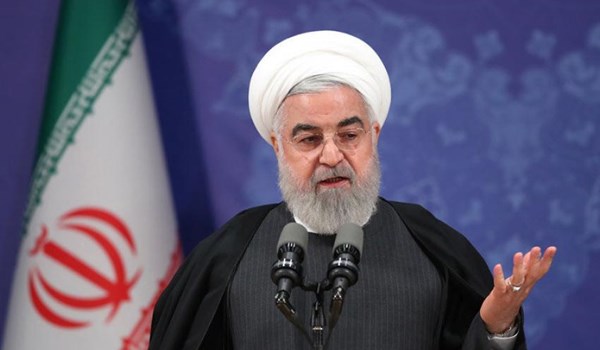 Iranian President Hassan Rouhani felicitated the Chinese National Day, saying that the 25-year-long comprehensive strategic cooperation plan between the two countries would benefit both sides.
In a message to Chinese President Xi Jinping on Wednesday, President Rouhani expressed congratulations to the Chinese people and government on the occasion of the National Day.
Cultural commonalities, long history of bilateral ties, and common viewpoint of the two countries towards international developments, that arises from the determination to confront unilateralism, have paved the way for the expansion of bilateral ties in different fields, he said.
"I am sure that the conclusion and signing of the 25-year comprehensive strategic cooperation plan between the two countries will be a giant step in proceeding common interests and will be in line with international peace and security and also confronting unilateralism," Rouhani said.
Despite all its problems, the COVID-19 outbreak prepared ground for showcasing China's power in helping the fate of the humankind, he added.
"Just as the two countries were standing side by side in the fight against the disease since its outbreak, I expressed my country's readiness to cooperate with China in producing COVID-19 vaccine and I hope that the ground for cooperation in this field would be paved with the direction of your Excellency," Rouhani said.
He also wished Xi Jinping and the Chinese people health and success.
The 25-year Iran-China comprehensive cooperation plan is not finalized yet. However, it was exposed to extensive discussion inside and outside Iran. The cabinet of Hassan Rouhani approved the draft of the plan on June 21 and tasked Foreign Minister Mohammad Javad Zarif with negotiating with China over the plan in order to finalize it. Three days later, the foreign minister held talks by phone with his Chinese counterpart Wang Yi.
During the talks, Iran's chief diplomat expressed hope that 25-year cooperation would be signed soon.
"Foreign Minister Zarif then highlighted the strategic comprehensive relations between the two countries, expressing hope that the document on comprehensive cooperation would be soon signed by the two sides," Iranian Foreign Ministry said in a statement.