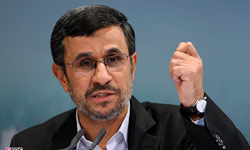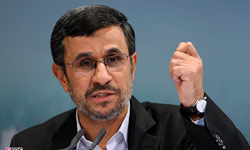 Iran's President Ahmadinejad praised the successful performance of the Iranian Oil and Economy Ministries as well as the Central Bank in defending the country against the enemies' economic war.
Ahmadinejad said during a Tuesday evening press conference in Tehran that the world is on the threshold of important developments in political, social and economical spheres.
In response to a question on whether budget revenues will realize, the current rate of global oil prices, the president said, "We have decided to go ahead with the current revenues and manage the economy without any budget deficit."
"We have set priorities on the one hand and have reduced expenditures on the other hand in order not to face any deficit, while at the same time we are hoping to solve foreign exchange market's problems and manage prices so that it causes no problem for the people."
"The oil price is a complicated issue because its gain and loss is not clear so we should act based on a specific analysis with regard to the great volatility in the world oil market.
"Surely when oil gets rid of political domination and its price is determined based on the realities of the world economy and far from political interference, it would be possible to do business based on an ideal supply and demand system that will be in our interest," the president said.
Referring to the Western sanctions, the president said, "While the bulk of Iran's foreign exchange revenues comes from selling oil, the enemy has banned Iran's oil sales and banking transactions so that the country won't be able to transfer the money or spend it, even if it sells oil."
"The enemy has mobilized all its possibilities to enforce its decision and so a hidden war is underway, a very widespread war on global scale," Ahmadinejad said, yet he underlined that the central bank of Iran and other related bodies have found ways to defuse these pressures.
"They have managed to bring down our oil sales," the president said, and added, "Of course we will compensate but we should notice that this is a kind of war through which the enemy assumes it can defeat the Iranian nation and that is why they may even make new decisions" once they realize that the methods they have already used have proved useless.
The president referred to the great efforts made in almost all sectors during the seven past year of his ruling, and said during the period 150 billion dollars have been invested in the oil industry and 80 billion dollars in the power sector and building dams which will bear their fruits in coming years.