Africa
World News
President Kiir declares immediate ceasefire in S Sudan: State TV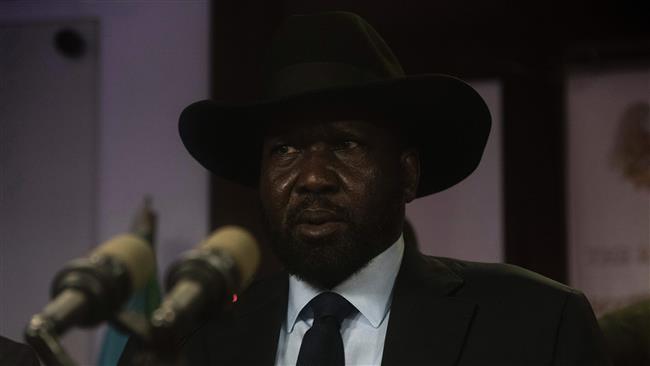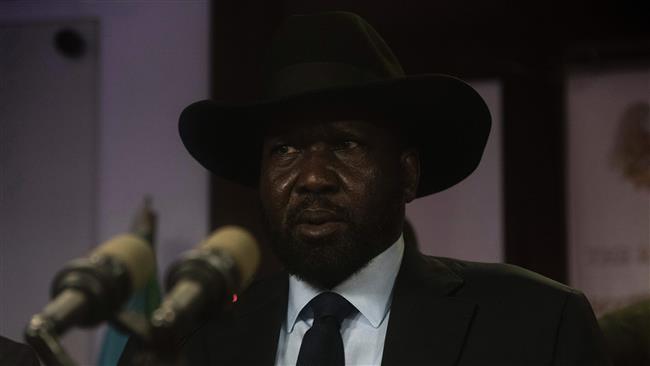 South Sudan's President Salva Kiir has ordered a unilateral ceasefire after days of fierce fighting between troops loyal to President Salva Kiir and rebels backing former vice president, Riek Machar, claimed hundreds of lives in the capital Juba.
Information Minister Michael Makuei at 6:00pm local time on Monday announced on state broadcaster SSBC that President Kiir had issued directives for an immediate cessation of hostilities.
The president has called for the implementation of a peace deal signed between the two sides in August last year, the minister added.
"The president has reiterated his commitment to the continued implementation of the [peace] agreement in letter and spirit, and thus issues an order of cessation of hostilities with immediate effect," the minister said.
However media reports indicate that heavy gunfire was heard in Juba after the order.
This comes as Juba has been mired in fresh fighting since Thursday when troops loyal to Kiir and Machar clashed, raising fears of a return to a full-blown conflict after a two-year lull.
Tanks, helicopter gunships, heavy artillery and mortars have been used in the latest bout of violence.
Following a pause on Saturday, battles began in earnest on Sunday morning, continuing throughout the day in several parts of the volatile city before subsiding overnight and resuming Monday.
The United Nations Security Council (UNSC) has voiced alarm over the renewed fighting and surge in violence, which has left at least 270 people dead since Friday and risks plunging the country into a new civil war. The council has also urged both sides to halt the violence and called for the full implementation of the 2015 peace agreement.
Machar orders his forces to cease fire
In a related development, South Sudan's vice president, and a former rebel chief, called on troops loyal to him to cease fighting after three days of clashes in the capital Juba with forces supporting President Salva Kiir, AFP reported.
"I inform all troops who have been fighting and have been defending themselves that they should observe the ceasefire and stay in position," Machar said on Eye Radio Juba, a short while after Kiir ordered an immediate unilateral ceasefire.
Machar said the ceasefire started at 8:00pm (1700 GMT) on Monday.
UN chief calls for arms embargo on South Sudan
UN Secretary General Ban Ki-moon called Monday for an immediate arms embargo against South Sudan in response to the heavy fighting. The UN chief also appealed to the UNSC for targeted sanctions against rival parties involved in the fierce clashes.
Ban also suggested that the United Nations Mission in South Sudan (UNMISS) should also be strengthened with attack helicopters. The UN has a 13,500-strong force in South Sudan.
"We desperately need attack helicopters and other material to fulfill our mandate to protect civilians," Ban said, adding, "I also urge all countries contributing to UNMISS to stand their ground. Any withdrawals would send precisely the wrong signal, in South Sudan and across the world."
The appeal comes after at least two UN peacekeepers from China were killed at a UN base in Juba on Sunday night.
Meanwhile, Koro Bessho, the Japanese ambassador and current president of the UNSC, warned that attacks against civilians may constitute war crimes. "The Security Council members stressed that attacks against civilians and UN premises … may constitute war crimes. The Security Council expressed readiness to consider enhancing UNMISS to better ensure that UNMISS and the international community can prevent and respond to violence in South Sudan."
A bloody civil war in South Sudan, the youngest country in Africa, began in December 2013 when Kiir accused his former deputy Machar of plotting a coup against him.
The two sides then got involved in a cycle of retaliatory killings that have split the impoverished country along ethnic lines.
Thousands of people have been killed and more than three million forced to flee their homes in the war. Nearly five million people are in need of food to survive a famine in South Sudan.
The two sides eventually signed an agreement in August last year to bring the conflict to an end. As part of the deal, Machar returned to Juba in April to take up the post of vice president in a national unity government.
Despite the August 2015 peace deal, battles persist across the country. There are numerous militia forces that do not abide by peace agreements and are driven by local agendas.
In January, UN rights monitors offered details about a long list of horrific abuses in the destructive war.
A joint report by the UN peacekeeping mission, UNMISS, and the UN High Commissioner for Human Rights (OHCHR) cited "gross violations" of human rights, including "gang-rape, sexual slavery and forced abortion," by the warring sides.