Egypt
President Mursi Urges Revision in Discriminatory Structure of UNSC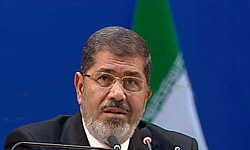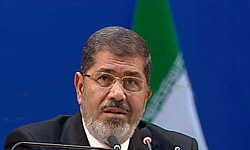 Egyptian President Mohammad Mursi in his address to the inauguration ceremony of 16th Non-Aligned Movement (NAM) summit in Tehran on Thursday morning underlined the necessity for revising the discriminatory structure of the UN Security Council.
Addressing the audience after the inauguration ceremony of the NAM summit which started by a keynote speech by Supreme Leader of the Islamic Revolution Ayatollah Seyed Ali Khamenei, Mursi stressed the necessity for the NAM's active role in the international system.
"Multilateralism should be strengthened," Mursi reiterated.
"NAM should powerfully support the materialization of the motto of sustainable peace based on shared world management," he added.
"NAM should play its pivotal role under the current sensitive conditions of the world," the new post-revolution Egyptian president said.
The NAM summit started at 10:30 local time (0600 GMT) at the Leaders' Summit Hall in Northern Tehran and will last for two days.
The summit is being held after a two-day experts meeting and a foreign ministerial meeting of the NAM member states which also lasted for two days.
The United States and Israel are among the nations fearful that the summit drawing a reported 50 or more heads of state and government will give Tehran a boost in legitimacy and rally disgruntled states to its defense of its nuclear programs.
The Islamic Republic's three-year tenure as head of the NAM, which started on Sunday, is a chance for Tehran to elevate its international standing as the United States seeks to cripple its economy and isolate it diplomatically over its disputed nuclear program.
Many analysts say that the diplomatic spotlight will give Tehran an opportunity to show Washington has failed to cut it off from the rest of the world.