Palestine
Hassan Nasrallah
Iran
Leaders of Ummah
Middle East
President Raisi to Sayyed Nasrallah: Hezbollah Has Become a Nightmare Haunting 'israel'
Hezbollah Secretary General Sayyed Hasan Nasrallah received a cable from the Iranian President Sayyed Ebrahim Raisi who replied to the Resistance Leader's earlier congratulatory letter on the presidential vote victory.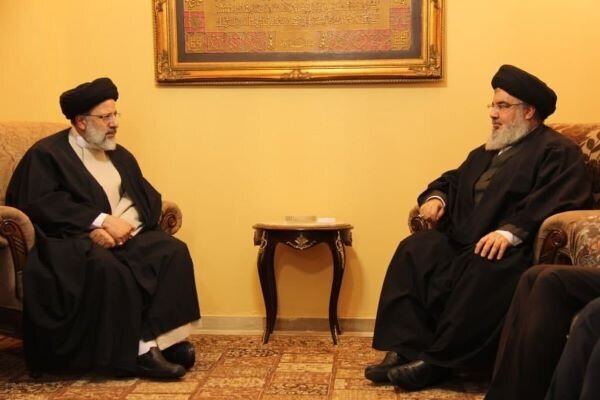 Sayyed Raisi stressed, in his cable, that Hezbollah is the good tree that bears fruit thanks to the leadership of Sayyed Nasrallah, jihad of the faithful revolutionary youths, and blood of the martyrs, adding that, along with time, this tree is shining with more achievements and providing the Islamic nation with hope.
The Iranian president indicated that the power of the Islamic Resistance has turned forefront of the revolutionary youths to be a nightmare which haunts the usurping entity, noting that Hezbollah role in confronting the Zionist and takfiri terror has enabled the Resistance Party to become influential in all the regional formulas.
None of the political, military, and security forces in the region and the whole world can ignore Hezbollah presence, according to President Raisi.
President Raisi affirmed that, based on the directions of Imam Khamenei, the Islamic Resistance is capable of presenting a unique model in politics that matches the religious rules within framework of protecting the national independence and providing the nation with stability, development and well-being.
The Iranian President, moreover, pointed out that, despite all the hostilities and grudges which lie in wait, the Islamic Resistance's geography has expanded beyond Lebanon and occupied Palestine, adding that Hezbollah efforts are not focused only on fighting the oppressors, aggressors, and occupiers.
The Islamic Resistance has become an integrated school that defends security and stability in Lebanon, calls for the liberation of the occupied Palestine, and promotes development and fair peace in the region, according to the Iranian president.
President Raisi concluded his cable by asking Holy God to provide Sayyed Nasrallah with good health, safety, and elevation and grant success, happiness and prosperity to Hezbollah fighters.