Syria
Iran
Middle East
President Rayeesi: Iran Opposes Foreign Intervention in Syria
President Seyed Ebrahim Rayeesi reaffirmed Iran's support for Syria, and reiterated that Tehran opposes any foreign intervention in the war-ravaged country.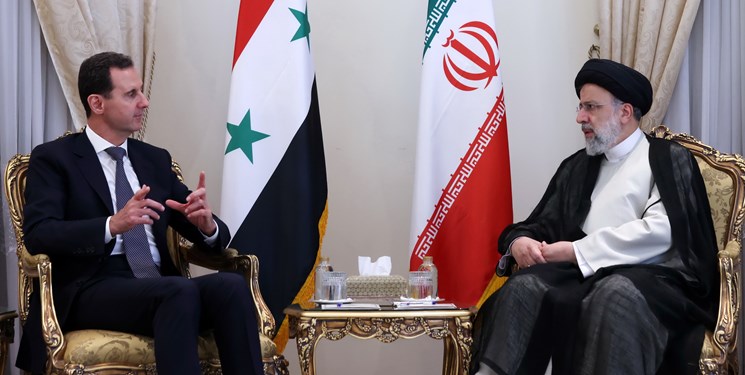 In a telephone call to Bashar Al-Assad on Saturday evening, Rayeesi congratulated his Syrian counterpart on the occasion of Eid Al-Adha, and noted Iran's supports the establishment of peace and stability and is against any foreign intervention in Syria.
He further pointed to the necessity of implementing the previous agreements between the two countries, and described the previous visit of Assad to Tehran as successful.
Meanwhile, the Syrian president congratulated the Iranian government and the Iranian nation on the arrival of Eid Al-Adha with sincere congratulations to Supreme Leader of the Islamic Revolution Ayatollah Seyed Ali Khamenei.
Assad stated Iran and Syria "stand together on the same front", while enemies are getting weaker and weaker every day in the face of the resistance front.
He voiced the hope both sides would celebrate the next Eid Al-Adha while witnessing growing internal and external achievements.
Assad held meetings with Ayatollah Khamenei and Rayeesi during a surprise visit to Tehran in early May. He paid his first visit to Tehran in February 2019, after a tripartite Iran-Russia-Syria coalition managed to suppress Takfiri terrorists and restore partial peace to the Arab country.
Syria has been gripped by foreign-backed militancy since March 2011. The Syrian government says the Israeli regime and its Western and regional allies are aiding Takfiri terrorist groups that are wreaking havoc in the country.
The US military has also stationed forces and equipment in Eastern and Northeastern Syria, with the Pentagon claiming that the deployment is aimed at preventing the oilfields in the area from falling into the hands of Daesh (also known as ISIL or ISIS) terrorists.
Damascus has stressed the unlawful deployment is meant to plunder the country's resources, calling on foreign occupation forces and their mercenaries to leave Syria.