Iran
Middle East
President Rouhani Underlines Iran's All-Out War on Terrorism in Region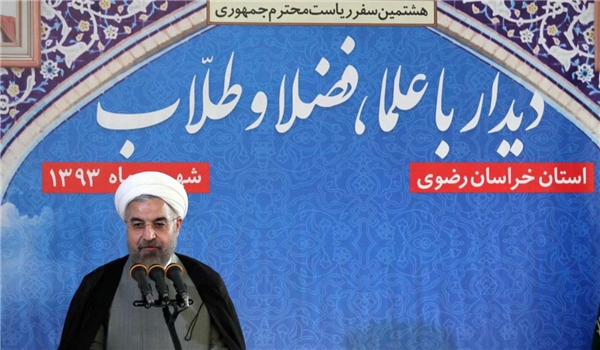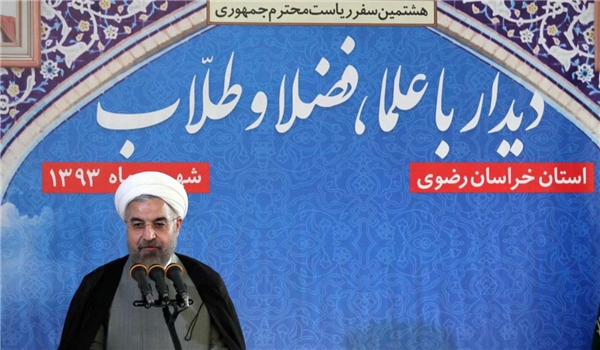 Iran's President Hassan Rouhani said Tehran is utilizing all its capacities and possibilities to defeat terrorism in the region.
Addressing a gathering of clerics and scholars in the Northeastern province of Khorassan Razavi on Sunday, the president said his government has taken confident, major steps in area of foreign policy ever since he rose to power last August, and managed to change the world public opinion about the country.
He further noted Tehran's tough combat against terrorism and violence in the region to protect regional security and stability, and said Iran is using all its power and possible capacities to this end.
"Today, the world knows Iran as a rational state which is against violence and terrorism," Rouhani said, and added, "In the regional countries where terrorism has endangered the lives, freedom and security of their people, the Islamic Republic of Iran has taken action against terrorism with all its power to establish tranquility and stability in the region."
Iran has been playing an outstanding role in the war on terrorism in the region. Many western officials and thinkers credit Iran for Syria's last year victories against terrorist groups as well as the recent victories against the Islamic State of Iraq and the Levant (ISIL) in Iraq. Tehran officials have always voiced their readiness to extend aid and assistance to the regional countries which have come under terrorist attacks.
In June, Iranian First Vice-President Eshaq Jahangiri underlined Tehran's preparedness to help Iraq in fighting terrorism, but meantime, dismissed deployment of any Iranian troops in the crisis-hit country.
"We are ready to help Iraq and if the Iraqi government requests, we will help them; we believe that violence and the terrorist groups should be eliminated from the region," Jahangiri said.
Yet, he strongly rejected some western media allegations that Iran had sent forces to Iraq. "We haven't dispatched any military force to Iraq until this moment," he stressed.
Jahangiri expressed confidence that Iraq's people and government, with the help of the country's clerics and religious leadership who are seriously determined to fight the terrorists, would be able to drive out the Islamic State of Iraq and the Levant (ISIL) terrorists from their territory.
Also in June, Iranian Interior Minister Abdolreza Rahmani Fazli underlined that Iran was willing to support its neighbors against the flow of Takfiri and terrorist groups, but not by sending military forces to those countries.
"Such supports do not mean dispatching forces, but condemning terrorist moves and closing the borders are their meaning," the Iranian interior minister said, addressing the administrative council meeting of North Khorassan province.
Yet, the Iranian interior minister reiterated that Iran supported its neighbors against the Takfiri and terrorist groups.
"We are responsible before God and our neighbors and, hence, support these countries," Rahmani Fazli said.