Iran
President Rouhani Warns of Iran's Immediate Reciprocation to N. Deal Abrogation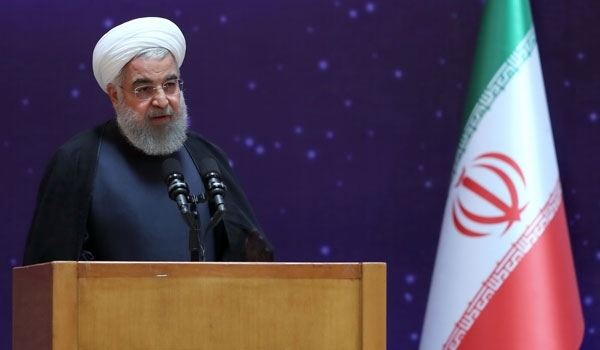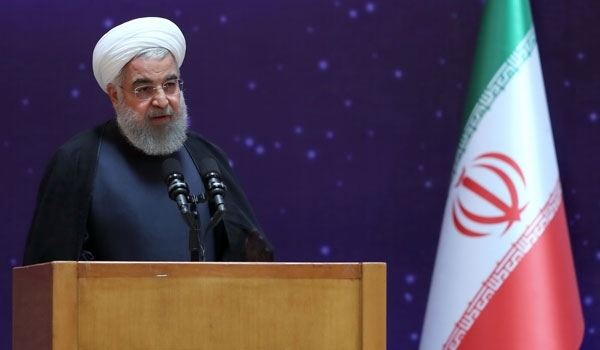 Iranian President Hassan Rouhani underlined that his nation is needless of other states' permission for developing its defense program, and warned that Tehran will immediately reciprocate any move by the US to discard the 2015 nuclear deal.
"We do not start violation of the (nuclear) deal but certainly, they should know that if they violate it, they will regret. We are prepared more than what they imagine and they will see that if they violate the deal, they will witness its results in less than one week," President Rouhani said, addressing a ceremony to mark the National Day of Nuclear Technology in Tehran on Monday.
Elsewhere, he underscored that Iran never thinks of threatening other countries and its military power is not aimed at aggression against others, but meantime, said, "We manufacture any necessary weapons to defend our country and to safeguard and maintain our security well in this insecure region and world."
"Our weapon is not aimed at making aggression against our neighbors. We want us all to become a big regional power in the region and we want to resolve our problems with the help of each other," President Rouhani said.
In relevant remarks on Sunday, Head of the Atomic Energy Organization of Iran (AEOI) Ali Akbar Salehi said his organization enjoys the capability to restore 20-percent uranium enrichment at its Fordo nuclear facility in just 4 days if the 2015 nuclear deal is discarded by the other side.
"If senior Islamic Republic officials issue an order to resume the 20% enrichment, we can do it in Fordo within 4 days," Salehi told reporters in Tehran on Sunday.
He said this statement should be seen as a warning by the other side against discarding the nuclear deal, stressing that Iran can even show more extensive progress in other parts of its nuclear activities to go beyond the previous levels.
Iran had also warned last July that it enjoyed the capability to restore its uranium enrichment operations and even develop its capacity to 100,000 SWUs (Separative Work Units) if the nuclear deal with the world powers failed as a result of the US non-compliance with its undertakings.
"We don't have any problems technically. We were moving normally in the past but if we want to soar up, we can ascend to go up the ladder and develop 100,000 SWUs (of enrichment capacity) in one and a half years and change the heart of the (Arak heavy water) reactor too," AEOI Spokesman Behrouz Kamalvandi said.
Iran has already gone along the lengthy path of developing its civilian nuclear technology and, for instance, it took Tehran five years to plan and design to build the heart of Arak heavy water reactor; hence it will take only 1.5 years now for the country to rebuild it because the plans and infrastructures are already there, he added, explaining that it wouldn't take long for Iran to revive all its past nuclear capabilities if the deal fails.
Kamalvandi warned members of the Group 5+1 (the US, Russia, China, Britain and France plus Germany), specially Washington, to remain committed to the nuclear deal or face Iran's reciprocation and resumption of its nuclear program development.