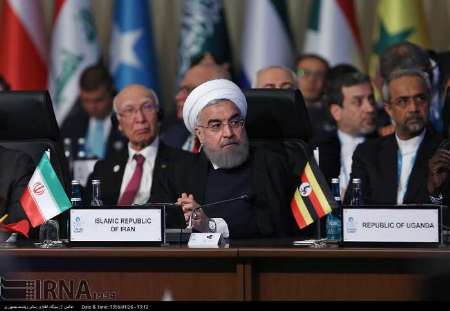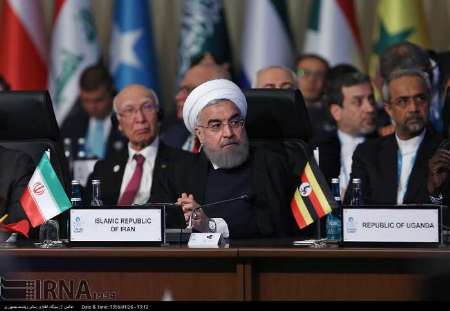 Iranian President Hassan Rouhani said on Thursday that Zionist regime is the main core of violence and extremism.
President Rouhani made the remarks in the 13th Summit of the Organization of Islamic Cooperation (OIC) started in the Turkish city of Istanbul on Thursday.
'Continued massacre of innocent Palestinians indicate the violent nature of the fabricated regime taking advantage of ignorance of the international community and the western powers in particular,' he said.
The world is not deserved to be targeted by wave of insecurity, violence, organized terrorism, backwardness but it should uphold its high profile status, he added.
'Some anti-Islam groups are rendering financial and military aid to defame Islam and this should be prevented,' President Rouhani said.
'When hundreds of billons of US dollars from the pocket of Islamic ummah is spent for military arsenals, how can we talk about Islamic unity and persuade the youths to talk about blessings of Islam?,' questioned President Rouhani.
OIC should be promoter of unity and any discords among Islamic ummah are totally out of point, he said.
'We have gathered in the beautiful city of Istanbul with the motto of Unity and Solidarity for Justice and Peace and should seize the opportunity to consider the fate of all Muslims in the world,' he said.
Some centuries ago, when the Islamic civilization was at its zenith of power no one assumed that one day, they (Muslim) become so weak in dealing with the western civilization which owed Muslims very much in terms of scientific growth, he said.
'No one assumed that sectarian violence and extremism would rampant among Muslims in a way that assassination of one Muslim with the hands of another Muslim to become so habitual'.
In fact when the big powers in the Islamic civilization confronted one another, grounds for aggression of the foreigners prepared, President Rouhani said.
Once again, history has been repeated and widespread political, economic, and cultural aggression has stiffened, but in a new form in which they have brought religions against religions, he said.
They are now massacring Muslims and non-Muslims in the roughest and mosrt merciless ways, he said.
'Regretfully, since these atrocities occur under the name of Islam, the main victims are the Islamic principles and values. Muslim accross the world do not deserve to be target of insecurity, violence and organized terrorism which will bring them backwardness and lack of development.'
Our deeds and not our claims or titles will be judged by the Muslims, he said.
Islam has taught us that crimes under any name or title are regarded as crime and that it makes no difference it occurs in Palestine, Lahore, Beirut, Damascus, Istanbul or New York, he said.
'The Islamic Republic of Iran avoids any tension and instability in the region and always seeks solidarity and unity among Islamic ummah. Iran is to help other countries to resolve their disputes through negotiations under a constructive atmosphere.'
He also said: 'It is crystal clear that neither Saudi Arabia is regarded as Iran's problem nor Iran is regarded as Saudi's problem, the main issue is ignorance, prejudice and violence which are now regarded as main hurdle and root cause of discords in the Islamic world,' he said.
'The Islamic Republic of Iran has always backed Islamic states and Muslims against aggressions, threats, occupation and terrorism. When Saddam invaded Kuwait, it was Iran that condemned the move before others and sheltered Kuwaiti and Iraqi refugees.'
When, President Rouhani continued, terrorists approached Baghdad and Irbil, it was Iran that helped Iraqi nation and government against savage atrocities of the Takfiri terrorist groups.
'When Damascus was on the verge of occupation and annihilation, it was Iran that stood by Syrian people. When Gaza was under the attack of Zionists, Iran and Hizbullah stood by Palestinian nation the same as they backed Lebanese people,' he said.
'If one day terrorists want to attack any Islamic states or religious place, and in case we are requested to confront them, Iran will never hesitate,' President Rouhani said.
'It is our duty to seriously deal with any violence, extremism by resorting to the Holy Quran, Islamic World should be an exemplary model for a moderate society, President Rouhani said.'
The 13th Summit of the Organization of Islamic Cooperation (OIC) started in the Turkish city of Istanbul on Thursday.