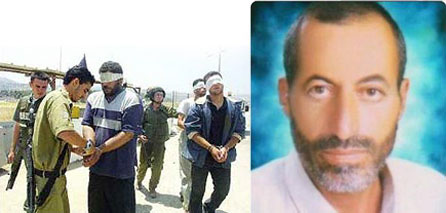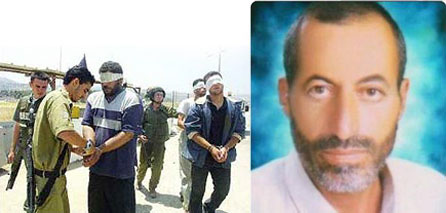 Prisoner Zuhair Lubada from Nablus city appealed to the Palestinian people to donate one kidney to save his life.
"I am in need for a kidney, I would be grateful forever to any Palestinian who would donate his kidney," Libada said.
Al-Ahrar center for prisoners' studies and human rights stated that Lubada has been in the Ramla prison's hospital since he was kidnapped, where he has been suffering from kidney failure since the mid-nineties and he has to be on dialysis for four hours everyday.
The center noted that Lubada's dependence on the dialysis machine on a daily basis made him lose half of his weight and rendered him very skinny.
One of the Palestinian prisoners who visits the Ramla hospital regularly said that Lubada suffers from a high level of phosphorus in his blood and became in a very bad physical condition.
The prisoner added that because of the poor nutrition provided for Lubada, his health condition tends to become much worse.
For his part, director of Al-Ahrar center Fouad Al-Khafsh pointed out that Lubada's sister gave him one of her kidneys three years ago, but the surgery failed and now he is in dire need for another kidney to save his life, adding that one of his cousins was also willing to donate his kidney, but the prison administration refused at the pretext that he is not a close relative.
The suffering of prisoner Lubada is not only confined to his medical condition, but also his wife has suffered breast cancer while he is in detention.
He is a breadwinner for four children and has been in administrative detention since his arrest in 2008 without any charge leveled against him.
In another incident, a report issued by the ministry of prisoners' affairs said that 13 Palestinian prisoners in solitary confinement intend to launch a campaign dubbed "the right to reading" in protest at depriving them of their right to educational attainment and not providing them with any reading materials.
For its part, the prisoner committee of the national and Islamic forces in the Gaza Strip strongly denounced the international human rights organizations for their silence regarding Israel's violations of the rights of Palestinian prisoners and their families.
In a statement issued on the occasion of the weekly sit-in organized by the families of Palestinian prisoners in Gaza, the committee stressed the need for organizing national events in support for prisoners in Israeli jails and their families who are deprived of visiting their sons.
Spokesman for the committee Nash'at Wahidi said that the prison administrations prevent the prisoners from performing their religious rituals in Ramadan in a proper way and deliberately force them to take their break under scorching sun at one o'clock at noon.