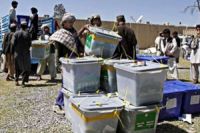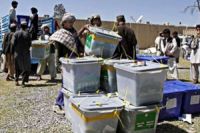 Supporters of Afghanistan's presidential candidate, Abdullah Abdullah, have staged a protest rally in the capital over alleged election fraud.
According to AFP, on Thursday, Abdullah's supporters took to the streets of Kabul and chanted slogans against outgoing President Hamid Karzai and the Independent Election Commission to mark the first public rally against the presidential election.
The demonstration came after Abdullah on Wednesday accused the government of engineering a widespread fraud. He said that according to evidence obtained by his campaign team, some ballot boxes were filled with votes a day before the June 14 run-off.
He also demanded that vote-counting be stopped.
Abdullah said "We suspend engagement with the (election) commission and we have asked our monitors to leave their offices," adding "We are asking for the counting process to be stopped immediately."
He accused his rival, Ashraf Ghani, President Karzai, and the election commission of attempting to change the results.
Abdullah claimed that his election observers "were beaten and jailed" in some provinces of the country, and they were not even given complaint forms to fill in.