Syria
Pro-govt. rallies held across Syria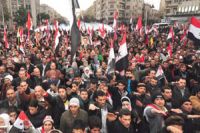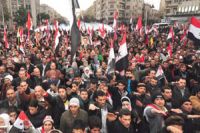 People across Syria have held massive rallies to voice their support for the presidential elections and country's army in its fight against the Takfiri militants.
According to Press TV, on Tuesday, people in al-Sirian and Mahatet Baghdad neighborhoods in the city of Aleppo held pro-government demonstrations, voicing support for the country's army which has been battling foreign-backed militants over the past three years. They also expressed support for the holding of the forthcoming presidential elections in the Arab country.
Syrians also held a pro-government rally in the central province of Hama. The demonstrators waved Syrian flags and held up posters of President Bashar al-Assad and his father, former Syrian President Hafez al-Assad.
Carrying patriotic banners, people in Daraa province organized a rally in front of the Workers Union's building. The demonstrators voiced their support for the presidential elections and rejected foreign interference in the Syrian internal affairs.
In a similar move, pro-government rallies were held in Homs, Tartous, Hasakah, Sweida and many cities and towns in the countryside of the capital Damascus.