Palestine
Pro-Palestine demo in UK slams Slaughterer minister Livni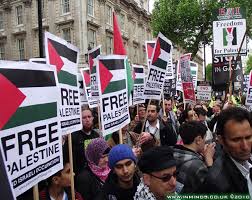 Hundreds of people protested outside a hotel in London, where Israeli Justice Minister Tzipi Livni was due to address the Jewish National Fund.
The Israeli politician was granted temporary diplomatic immunity by the British government ahead of her visit to the UK.
More than 200 pro-Palestinian demonstrators and Jews protesting against Zionism made the move to express anger at the decision by the UK administration.
The protesters chanted slogans such as, "Free, free Palestine" and, "Livni war criminal".
Pro-Palestine demonstrators demand prosecution of Livni for her role in the bombing of Palestinians in the Gaza Strip during the 2008-09 Israeli war on the besieged territory.
Most of the victims of the Israeli war on Gaza were children and women.
The UK government's decision was made to protect the Israeli minister against arrest and potential prosecution.