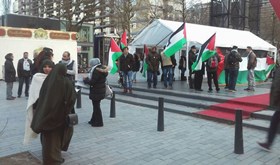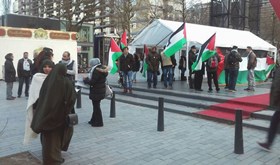 A series of rallies were staged Saturday by a consortium of pro-Palestine groups and activists based in the Netherlands and Germany in solidarity with the Palestinians of Gaza.
An on-the-sport PIC journalist said a sit-in staged by the Koblenz-based Palestinian Assembly in Germany pushed for lifting the Gaza siege, pressing ahead with the rebuilding process, and unblocking the border-crossings.
Earlier, on December 27, a set of solidarity activities was launched by the European Campaign to Lift the Gaza Siege on the occasion of the sixth anniversary of the notorious 2008 Israeli offensive on Gaza. The campaign is set to be wrapped up on January 18.
Meanwhile, a pro-Palestine march held by the Netherlands-based Palestinian House pushed for lifting the blockade on the Palestinians of Gaza.
The marchers called for loosening the noose around Gazans' necks and neutralizing the Palestinian refugee camps from the ongoing Syrian conflict.