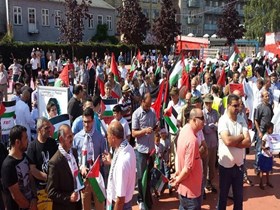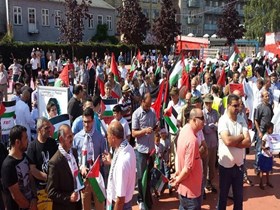 The Danish Islamic Council has organized a solidarity day in support of occupied Jerusalem in the capital city of Copenhagen under the slogan "Jerusalem is ours."
The event included presentations, lectures, competitions, documentary films, and workshops for children.
The Palestinian Forum in Denmark also intends to organize on Saturday a similar event under the title "al-Aqsa is in danger" in the presence of director of the Aqsa Mosque Sheikh Najeh Bakirat.
In Germany, the Palestinian Assembly organized on Friday evening a candlelit vigil in solidarity with the besieged Gaza Strip.
Children lit candles during the event that was held to commemorate the anniversary of the Israeli war on Gaza in the winter of 2008.
The event was part the European solidarity campaign that demands an end to Israel's blockade of Gaza.