Europe
Pro-Russians seize government buildings in Horlivka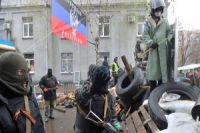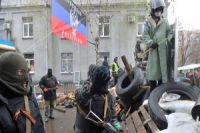 Pro-Russian forces have seized state buildings in the eastern Ukrainian city of Horlivka, tightening their hold on the country's east.
According to the reports, anti-Kiev forces on Wednesday seized Horlivka's city council building.
In addition, the pro-Russian forces took control of the city's police headquarters after weeks of blockading the building.
Horlivka, a town of almost 300,000 people, is located just north of Donestk, which is planning to hold a referendum on separation from Ukraine on May 11.
The pro-Russian forces now control government buildings in about a dozen cities in eastern Ukraine.
On Tuesday, pro-Russian protesters seized the eastern city of Lugansk, one of the largest cities in Ukraine's troubled east.
A day earlier, pro-Russian forces took control of the town of Kostyantynivka, after seizing the city hall and police headquarters.