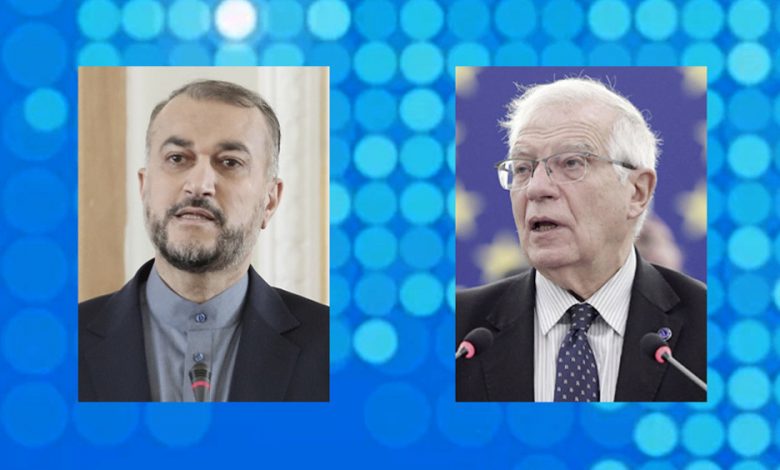 The Iranian foreign minister has reiterated Tehran's seriousness in achieving a good agreement with the P4+1 group of countries during the ongoing talks in the Austrian capital of Vienna, saying a rapid progress in the diplomatic process depends on the West's goodwill and constructive initiatives.
In a phone call with European Union foreign Policy chief Joseph Borrell on Wednesday, Hossein Amir-Abdollahian said the representatives of the five remaining parties to the 2015 nuclear agreement, officially known as the Joint Comprehensive Plan of Action (JCPOA), had so far held "useful" interactions.
He expressed hope that the West would participate in the new round of the talks, which is set to begin in Vienna later on Thursday, with goodwill and constructive initiatives "so that we will witness a rapid advancement of the talks."
The top Iranian diplomat criticized the West's continued passivity during the Vienna talks, saying, "So far, we have not received any constructive and forward-looking proposal from the opposite side, and this contradicts its declaration of serious presence in the negotiations."
"In the last eight years, enough has been said and no promise has been fulfilled, but it is time for action today and we are making efforts to reach a serious and good agreement," the Iranian foreign minister said.
He added, "Iran's nuclear program is completely peaceful but resolving the nuclear concern is directly related to the complete removal of the [US] sanctions [against Iran]."
The top Iranian diplomat expressed doubt if the West was truly ready to remove sanctions or it was merely seeking to unilaterally address its own concerns.
Iran and the five other parties to the 2015 nuclear deal are set to start a new round of negotiations on Thursday in the Austrian capital, aimed at securing a removal of the sanctions imposed by the US on Iran after its withdrawal from the accord and reviving the embattled international document.
The Iranian chief negotiator to the Vienna talks Ali Bagheri Kani arrived in Vienna on Thursday at the head of a delegation. He is scheduled to hold talks with EU deputy foreign policy chief Enrique Mora and head of the Russian and Chinese teams ahead of the JCPOA Joint Commission session.
Iran and the five remaining parties to the JCPOA began the talks in the Austrian capital in April with the aim of removing the sanctions after the US, under President Joe Biden, voiced a willingness to return to the agreement.