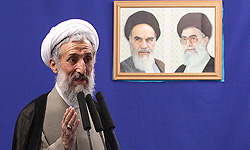 Interim Friday Prayers Leader of Tehran Hojjatoleslam Kazem Sediqi said on Friday that the US President Barack Obama's threat against Iran is an instance of sheer foolishness and worst disgrace.
Delivering his second Friday prayers sermon to large groups of Tehrani worshipers at Tehran University campus, Hojjatoleslam Sediqi said the US president's nuclear threat was not in keeping with any human, religious, legal and judicial standards.
He said, "The US has a dark record of nuclear attacks. These (the Western countries) cannot by their nuclear arms threaten the nations who proceed on the peaceful path."
He added that based on religious injunctions, killing an innocent person is synonymous to genocide of a generation.
He said that thanks to huge wealth and high diligence of its nuclear scientists, the Iranian nation will continue reaching their highest targets.