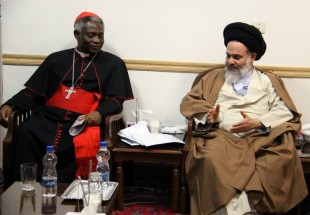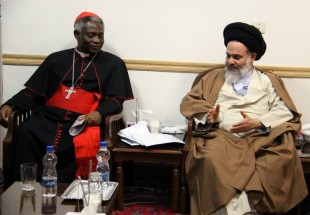 Grand Ayatollah Seyyed Hashem Husseini Bushehri, manger of seminaries met with Cardinal Peter Turkson, president of the Vatican's Pontifical Council for Justice and Peace stressing the relations between Muslim and Christian leaders as a necessity for the current world and counted oppression, corruption, irreligiousness and anti-spirituality approaches as some of the joint challenges of both religions, reported Taqrib News Agency (TNA).
He criticized the misrepresentation of Islam in the west and said the mutual ties between two religious centers can provide the grounds for a true introduction of Islam and Shia Muslims so that the holy religion is introduced to the west in the language and view of the Vatican.
Deputy of the Society of Seminary Teachers of Qom warned against extremism as the common challenges of Islam and Christianity and said," Extremist religious activists do not maintain religious redlines and provide a tarnished image of both Islam and Christianity."
Ayatollah Bushehri noted, "Measures by some extremist Muslims who kill the innocent people are slammed in our view." And added," In the world of Christianity also moves like burning the holy book of Islam is made which are not the signs for peace or justice rather an inspiration for pessimism and spread of hostility among two religions."
Ayatollah Husseini Bushehri stressed campaigns against terrorism and poverty and efforts for expansion of peace as key joint issues between Qom Seminary and the Vatican and expressed concerns over the inappropriate behaviors by some European countries towards refugees."
The cleric also counted Weapons of Mass Destruction (WMD) as another concerns for Qom Seminary and noted that P5+1 talks as a proof that Iran is not in pursuit of nuclear weapons saying," The statement by the Supreme Leader of the Islamic Revolution is another evidence for the stance of the Islamic Republic against nuclear weapons; hence, Iran has practically proved that it is not pursuing nuclear weapons."
The cleric demanded the Vatican to explain necessity of disarmament of the countries from weapons of mass destruction for the world.
The Prominent cleric in this meeting announced the preparedness of the Qom Seminary to expand ties with the Vatican and said," In our view justice is prioritized over peace since prevalence of justices prevents all wars which necessitate peace."