Iran
Middle East
Prominent MP: US President's Meddling in Iran's Internal Affairs "Intolerable"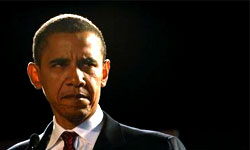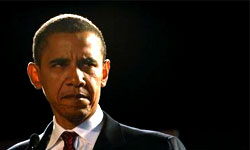 Iran will not tolerate US President Barack Obama's stance on the three Iranian islands in the Persian Gulf, a senior Iranian legislator said, and blasted Obama's remarks as meddling in Iran's internal affairs.
The United States on Wednesday backed the UAE claims over the three Iranian islands of Abu Musa, the Greater Tunb and the Lesser Tunb as President Barack Obama met Crown Prince of Abu Dhabi and Deputy Supreme Commander of the UAE Armed Forces General Shaikh Mohammed bin Zayed Al Nahyan at the White House.
A joint US and UAE statement issued after the meeting, which was closed to the press, said Obama and the prince "called for a peaceful resolution of the islands' status".
The United States "strongly supports the UAE's initiative to resolve the issue through direct negotiations, the International Court of Justice, or another appropriate international forum," the statement said.
Speaking to FNA, member of the parliament's National Security and Foreign Policy Commission Abasali Mansouri blasted the US support for the UAE, and stated, "We condemn Obama's view 100 per cent since the islands are indispensible part of our sovereignty."
"Such a claim by the UAE and the US is considered as an insult (to Iran) and interference in our internal affairs and we do not tolerate it at all," the lawmaker stated, adding that Iran's sovereignty over the islands is documented in all historical maps and international laws, rules, treaties and documents.
The UAE, supported by a few Pan-Arab rulers, has recently augmented its claim on the three Persian Gulf islands. The small Arab state, which defies international treaties and documents on the Iranian ownership of three Persian Gulf islands, recently called its ambassador from Tehran after Iran's President Mahmoud Ahmadinejad visited the Abu Musa island whose sovereignty has been a main bone of contention in the two countries' ties.
In reply, Tehran said the visit was an issue related to Iran's state sovereignty.
Iranian officials believe that Abu Dhabi is just uttering the words which have been dictated to it by the US and Britain.
International documents clearly show that the three islands of the Greater Tunb, the Lesser Tunb and Abu Musa which were historically owned by Iran, temporarily fell to British control in 1903. The islands were returned to Iran based on an agreement in 1971 before the UAE was born.
Iran has repeatedly declared that its ownership of the three islands is unquestionable.
Under international law, no state can defy any agreement, which came into being before its establishment.
Yet, the UAE continues to make territorial claims against the Islamic Republic despite historical evidence and international regulations.