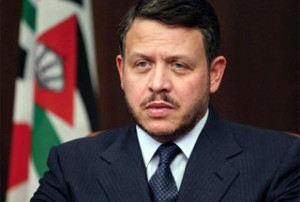 King Abdullah warns of Sunday 'dangerous consequences of provocative Zionist moves and aggressive acts against al-Aqsa Mosque. He adds that steps taken constitute dangerous provocation that threatens efforts to achieve regional peace.
King Abdullah of Jordan added that the international community must take immediate measures to protect the holy sites in east Jerusalem from unilateral moves on occupied Jerusalem.
According to the king, Zionist moves seek to alter Jerusalem's identity and constitute a dangerous provocation that threatens all efforts invested in achieving regional peace.
King Abdullah emphasized that his country will continue to invest efforts in protecting the holy sites in Jerusalem. In addition, Abdullah highlighted Jordan's rejection and rebuke of Zionist's decision to include Yusuf's Tomb and all the Muslim holy sites in Hebron on its list of national heritage sites.