Europe
Protesters block Brazil football stars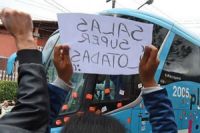 Brazil's national football team has been forced to pass through 200 striking teachers when heading for the squad's hilltop tournament training camp.
According to AFP, the team bus was on its way from Rio de Janeiro's international airport en route to the squad's base on Monday when it was surrounded by teachers protesting the costs of staging the World Cup.
The protesters, despite the heavy presence of the police, managed to stick anti-World Cup stickers on the bus before it finally eased past the crowds.
The crowd chanted "There will be no World Cup, there will be a strike."
After the bus passed through the protesters and reached the Granja Comary training base, it was greeted by hundreds of people, over 100 international journalists and Brazilians, some of whom had come to cheer the players and some had come to continue the teachers' protests.
Brazilian teachers went on strike in the Rio state on May 12, demanding a 20-percent salary increase and better working conditions.