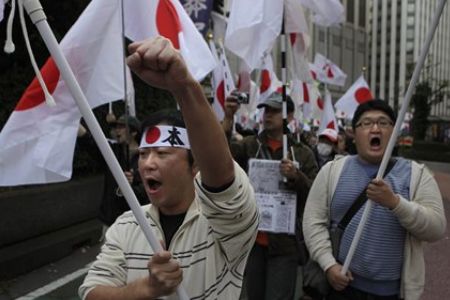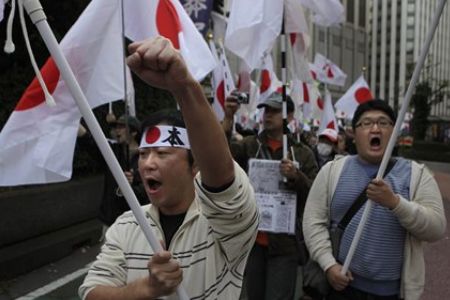 Hundreds of protesters have taken to the streets of Japan's Yokohama city to call for an end to an Asian summit they say will hurt the country's economy.
The protesters marched close to the hotels hosting leaders from the 21 member states of the Asia Pacific Economic Cooperation (APEC) on Sunday, a day after the APEC summit kicked off in the city.
Protesters argue that the free-trade agreement under discussion by the APEC forum will hurt Japanese business already enmeshed with economic adversity.
"APEC is all about promoting free trade and investment, and I am against the idea that our society only prospers with the help of economic growth. That kind of living is wrong," Reuters quoted an angry protester as saying on Sunday.
Many Japanese see such a move as a threat to domestic industries and agriculture in particular.
"Japan's Prime Minister [Naoto] Kan's government is trying to sign a TPP (Trans-Pacific Partnership), this will destroy our agriculture and cattle ranches," said Shigeki Okubo, chairman of All-Japan Federation of Student Self-Government Associations.
Japan has deployed some 21,000 police officers in Yokohama to ward off the threat of any violence in the protests which have been peaceful so far.
On Saturday, hundreds of students rallied in Yokohama to voice discontent with the APEC summit being held in their country.
The students also voiced anger over what they called Beijing's "imperialism" in a territorial dispute with Tokyo.
The 21-member APEC forum includes the world's three largest economies — the US, China, and Japan. It also includes some of the fastest growing emerging economies such as Indonesia, Thailand, and Mexico.
The APEC summit discussed a variety of economic issues, including the creation of a vast free trade zone.