Europe
Protesters rally in Barcelona for jailed Catalan leaders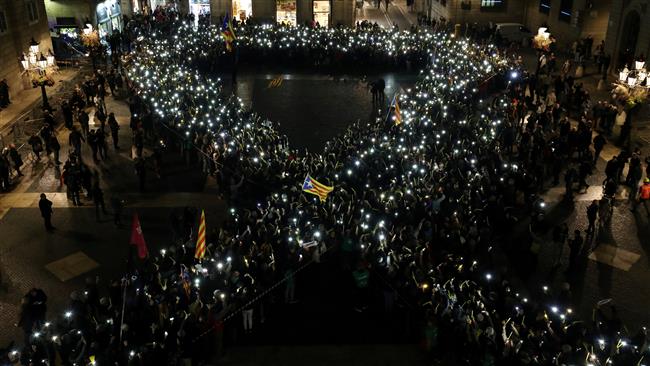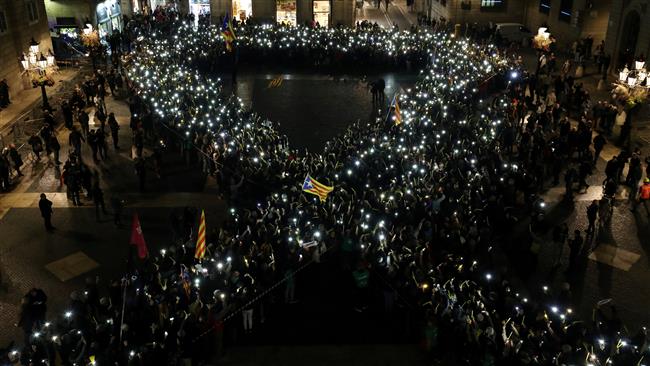 Hundreds of people have gathered at the center of the Old City of Barcelona, in Spain, lighting up the main square with their mobile phone flashlights and glowing sticks in solidarity with the pro-secession Catalan leaders who have been imprisoned by the Spanish government.
The rally was held at Sant Jaume Square on Thursday to mark one month since the detention of the first two Catalan leaders to have been arrested over their bid for Catalonia's secession from Spain.
Leader of Catalan National Assembly (ANC), Jordi Sanchez and Jordi Cuixart of Omnium Cultura, were sent to jail on October 16 by a High Court judge, who ruled they must remain in prison without bail. Eight more Catalan leaders were taken into custody weeks later
Protesters also held green balloons in front of the Catalan government building, with each balloon representing one of the prisoners.
A spokesman for Omnium Cultural, Marcel Mauri called on the protesters to continue demands "to stop the violence, the repression, to stop the [invocation of Article] 155 and that all of them (the imprisoned leaders) return home."
Before the then-government in semi-autonomous Catalonia held an independence referendum on October 1, the central government in Madrid ruled that the vote would be unconstitutional. Despite Madrid's efforts to disrupt the voting, the referendum was held, and Catalan officials later declared independence.
That proved to be the boiling point for Madrid, which sacked the regional government in Catalonia and its parliament, summoned a host of officials to court, and called new elections for the region for a new government on December 21.
Mauri called those elections "'illegitimate" and said "sovereignty and separatism[…] are going to win."
The vice president of the ANC, Agusti Alcoberro, also read a note sent out in the day by Sanchez, in which he said, "We won't abdicate anymore to build a free country, with democracy and absolute freedom."
The two imprisoned leaders, as well as other former officials, are being investigated for sedition.
Some of them are hopeful, however, that they could run in the elections scheduled by Madrid. Sanchez has resigned from his post to run as a candidate in the December 21 elections.
Meanwhile, Catalonia's ousted president, Carles Puigdemont, has fled to Belgium. He faces criminal charges at home, and is campaigning to be his party's top candidate from Belgium.
Under the country's law, Catalan former leaders and any other pro-independence officials or activists can run in the elections unless they are convicted.
Puigdemont to appear in court on Friday
The deposed president, along with four members of his ousted cabinet, is facing extradition back to Spain. He is due to appear in a Brussels court on Friday, where his defense team is expected to argue that Madrid's attempts to repatriate him are "unlawful and politically motivated."
Their defense team told Belgian newspaper De Standaard that the ousted leaders "are being persecuted for their political opinions" and that the Belgian judge "should refuse to hand them over."
Puigdemont and his cabinet members, who face a European arrest warrant requested by Madrid, are currently free on bail in Belgium.