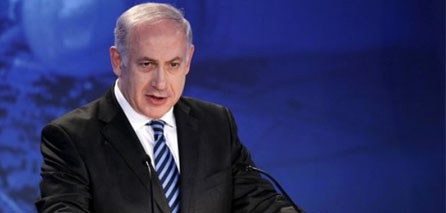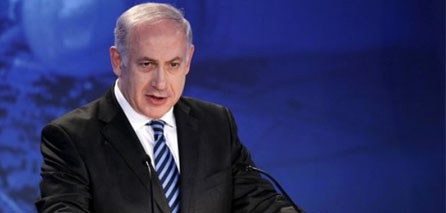 Angry protesters interrupted Zionist Prime Minister Benjamin Netanyahu's speech to a prominent American Jewish group on Monday, the same day his government said it would move ahead with hundreds of new illegal housing units in the occupied east Jerusalem.
The angry protesters, members of the Young Leadership Institute of Jewish Voice for Peace, stood up and shouted at different times during Netanyahu's speech to the Jewish Federations of North America.
The five Jewish-American and Israeli protesters stood up and held banners denouncing the illegal settlements.
The first protester, who interrupted Netanyahu barely moments after he began his 30 minute speech, was ejected while shouting "the loyalty oath delegitimizes Israel".
Subsequent interruptions of regular intervals protested Israel's occupation, claiming that it too delegitimizes what so clled "Israel".
Rae Abileah, a 28-year-old protester from San Francisco, shouted "the settlements betray Jewish values" as she was grabbed by Orleans Parish sheriff's deputies and pulled out of the hall. She said a man sitting in front of her tried to stuff a seat cover into her mouth to silence her. Audience members pushed a male protester and cursed at him after he interrupted the prime minister's speech.
Hannah King, a 17-year-old student and member of the Jewish Voices for Peace, which organized the protests, said that the protesters had been escorted out of the hotel, where they were handed over to the police.
King said that she had been driven to act as she felt Israel's behavior went against her Jewish upbringing.
"We believe that the actions that "Israe" is taking, like settlements, like the occupation, like the loyalty oath, are contrary to the Jewish values that we learnt in Jewish day school," she said. "This is not "Tikkun Olam". Oppressing people in refugee camps is not Tikkun Olam. And it is a hypocrisy that I cannot abide."
Netanyahu accused the protesters of joining those who believe "Israel is guilty until proven guilty!."
Obviously, Interruption of Netanyahu's speech by angry protesters is not the first, previously, former Zionist PM Ehud Olmert was also interrupted by a group of angry protesters in Chicago university in 15 October 2009.
Protesters inside the hall read off the names of Palestinian children killed during Zionist occupation assault on Gaza last winter. They shouted that it was unacceptable that the war crimes suspect be invited to speak at a Chicago university when his army destroyed a university in Gaza in January. They reminded the audience of the more than 1,400 Palestinians killed during the Gaza attacks and the more than 1,200 killed during the Zionist occupation invasion of Lebanon in 2006. Both invasions happened during Olmert's premiership.