World News
Protesters Slam US Double-Standard Policies on Terrorism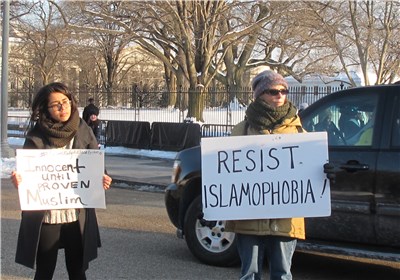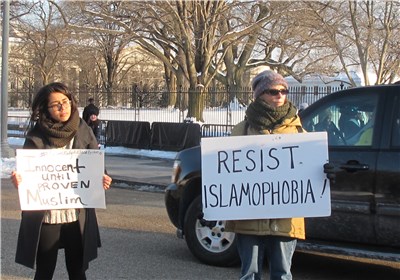 A group of American citizens gathered in front of the White House in Washington D.C. to protest at the US administration's discriminatory and double-standard policies toward the issue of terrorism.
According to Tasnim dispatches, American protesters rapped Obama's government over its Islamophobia policies.
Demonstrators referred to the recent killing of three young Muslims in North Carolina, and deplored the distorted news published on the event by US mainstream media.
American corporate media and statesmen described the crime as a "parking dispute", while it was more a hate crime and an act of terrorism, the protesters said.
They also opposed the US government over its policies on such events, saying that whenever the criminal is a Muslim, the crime is introduced as a terrorist attack, while in the case of non-Muslim criminals, it is simply considered as an accident.
A 46-year-old man gunned down three young Muslims in Chapel Hill, North Carolina, on February 10.
Newlywed Deah Shaddy Barakat, 23, a University of North Carolina dental student, his wife, Yusor Mohammad Abu-Salha, 21, and her sister, Razan Mohammad Abu-Salha, 19, a student at North Carolina State University, were killed in a condominium about two miles (three km) from the UNC campus.
American protesters further slammed the White House over the organization of "countering violent extremism" summit, saying that it is aimed at increasing Islamophobia and provoking extremism against Muslims.
US Vice-President Joe Biden kicked off a three-day White House summit on countering violent extremism on Tuesday, bringing together local officials from across the country and ministers from around the world.