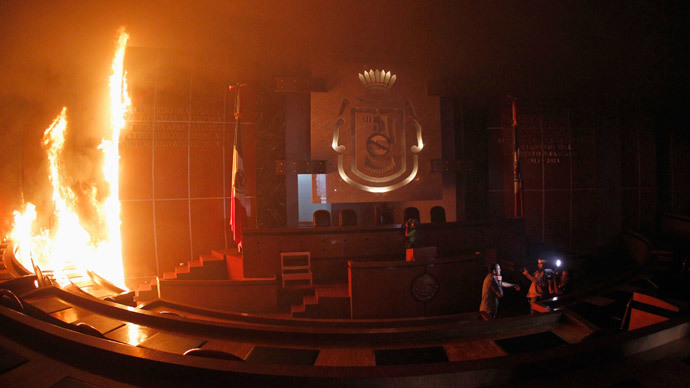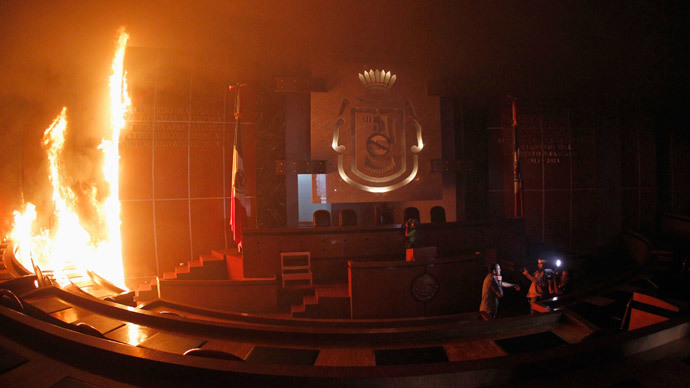 Protesters in Mexico have set fire to the Guerrero state congress building as outrage grows over the reported massacre of 43 college students.
On Wednesday, around 500 masked protesters broke into the empty government building and torched the library and the room where local lawmakers hold sessions.
The angry protesters also set fire to five cars which were parked in the immediate vicinity of the building.
According to reports, a few riot police forces were injured in the clashes that broke out as they tried to disperse the demonstrators.
On Tuesday, hundreds of people took to the streets in the Mexican state of Guerrero to protest against the suspected massacre of the students.
Three police officers and two journalists were injured during the clashes.
On September 26, 43 students, all trainee teachers, disappeared in the city of Iguala in Guerrero state following an attack by police forces suspected of having links to drug gangs. The incident took place during a protest rally over teachers' rights.
The recent protests came after authorities announced last week that three detained gang members had confessed to the killing of the students and burning their bodies.
The gang members have claimed in their confessions that the police had handed over the students to them.