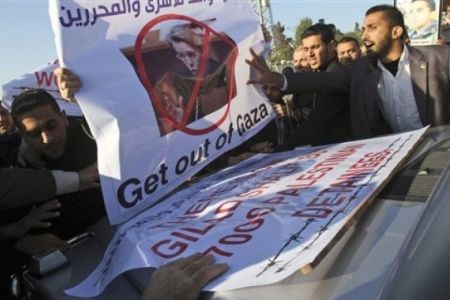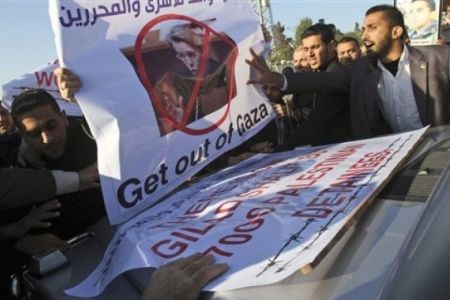 Angry Palestinian demonstrators have protested against the French foreign minister's visit as she entered the besieged Gaza Strip, criticizing her pro-Israeli stances.
Demonstrators tried to stop Michele Alliot-Marie's car after it went through the Erez crossing into Gaza on Friday.
The protests were provoked after media reports said that Alliot-Marie had described the captivity of Israeli soldier Gilad Shalit by Hamas — the democratically-elected ruler of Gaza — a war crime on Thursday during a meeting with the Israeli soldier's father.
Shalit, who holds Israeli-French dual citizenships, was captured by Hamas fighters in June 2006 during a cross-border operation. France has repeatedly called for his release.
Protesters, who consisted of the family members of Palestinian prisoners held in Israeli jails, accused the French minister of maintaining a pro-Israeli stance and ignoring Israeli war crimes against Palestinians.
Hamas spokesman Sami Abu Zuhri said that her comments reflect a "total bias towards Israel" and ignored the thousands of Palestinians held in Israeli prisons. Hamas has repeatedly said that it will release Shalit only after Israel frees hundreds of Palestinian prisoners.
"They are the true prisoners of war," Zuhri said.
Some reports, however, suggest that, during her meeting with Noam Shalit, the French foreign minister said that Shalit should receive Red Cross visits and that Shalit's Father had misquoted her.
"Holding a hostage without allowing him to meet representatives of the Red Cross is a war crime," Noam Shalit told reporters following the meeting in al-Quds (Jerusalem).
Gaza police eventually dispersed the protesters and safeguarded her visit to a Red Cross hospital and a French Cultural Center.
While in Gaza, the French minister called for an immediate end to the Israeli crippling blockade of the tiny Palestinian territory and called for the establishment of a Palestinian state.
"The blockade of Gaza breeds poverty and fuels violence. In the spirit of the values of freedom and dignity that we share, France calls on Israel to stop it," AFP quoted Alliot-Marie as saying.
Alliot-Marie, who is on her first trip to the Middle East since her appointment in November, did not meet with Hamas officials during her half-day visit.