Iran
Latin America
Middle East
World News
Puppet Honduras: Iran pushing anti-israel campaign in LatAm
Honduras, one of the few countries that have recognized Jerusalem al-Quds as Israel's "capital," has re-emphasized its alliance with the occupying entity and accused Iran of driving an anti-Israeli campaign in Latin America.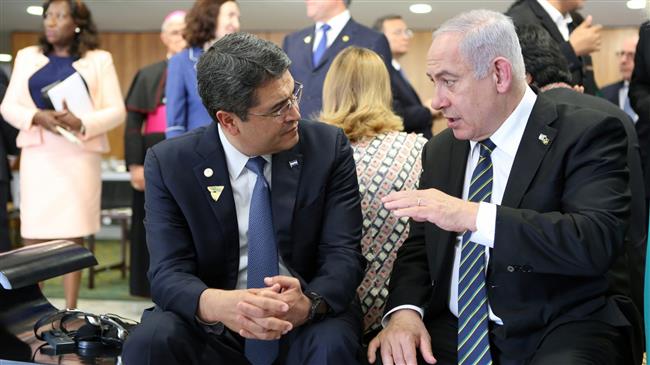 Honduran President Juan Orlando Hernandez claimed Sunday that Iran, Qatar, and Venezuela had launched efforts to influence public opinion across Latin America, with "blatantly anti-Israel propaganda networks targeting South and Central America."
"The forces that are hostile to Israel are constantly waging a propaganda battle in Latin America," he said at the Israeli American Council National Summit in Florida.
"Iran broadcasts in Spanish in the entire hemisphere with its own network," he added, apparently referring to the HispanTV network.
Earlier this year, US Internet giant Google blocked the YouTube channels belonging to HispanTV and PressTV, another Iranian international network.
Google 'disables' Press TV's YouTube account without prior warningGoogle has "disabled" the official accounts of Press TV and Hispan TV without prior warning.
Hernandez is accused of seeking stronger allegiance to the US and its closest ally Israel to fend off or obscure multiple high-profile scandals he has been facing at home and abroad for long.
Last year, Hernandez made Honduras the first state to copy the United States' illegal recognition of Jerusalem al-Quds as Israel's "capital" and relocate the Latin American state's embassy to the occupied holy city.
Palestine to file complaint at UN over Honduras recognition of al-Quds as Israel's capitalPalestine will file a complaint at the United Nations against Honduras after it recognized occupied Jerusalem al-Quds as Israel
Hernandez is under fire at home for leading what Honduran protesters call a military dictatorship. The US has accused him of using "drug money" to fund his first presidential campaign in 2013.
In October, a New York court found his brother, Juan Antonio "Tony" Hernández, a former US congressman, guilty on four separate charges, including conspiracy to import cocaine into the US as well as weapons offenses.
Hernandez, however, was sworn in for another term last year amid deadly protests by Hondurans denouncing him as a "narco-dictator" and calling the government a "narco-state."
Protest in Honduras to demand resignation of President Hernandez Students of the National Autonomous University of Honduras clash with riot police during a protest demanding the resignation of Honduran President Juan Orlando Hernandez for his alleged links to drug trafficking.
Still, Hernandez called for "a strong trilateral alliance" to bring together the United States, Israel and their friendly states in Latin America.
He also took a page out of the US and Israeli book to attack Iran's nuclear energy program.
"We must say 'Never Again', 'Never Again,'" he said, mirroring an accusation by Washington and Tel Aviv against Tehran of diverting its nuclear program.
Tehran has invariably rejected the claims, which have also been refuted in more than a dozen United Nations reports, confirming the peaceful nature of Iran's nuclear activities.