Middle East
Puppet UN chief slams terrorist bomb attacks near Beirut, calls for justice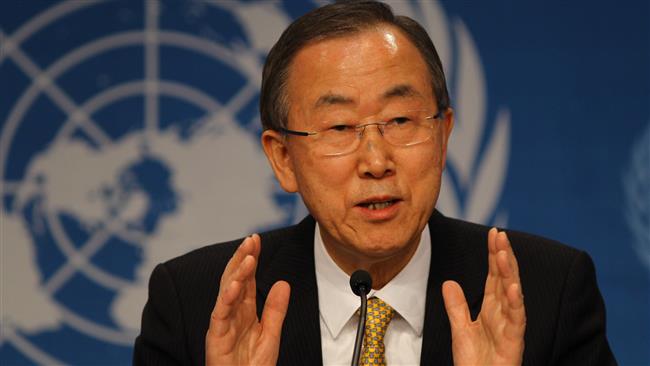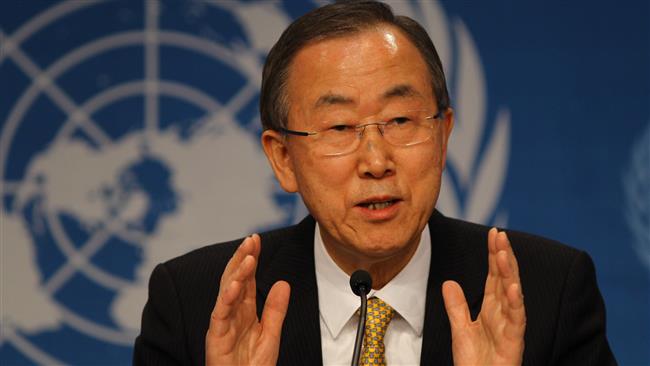 The United Nations (UN)'s Secretary General Ban Ki-moon has strongly condemned the recent deadly terrorist attacks that killed over 40 people in Lebanon, saying the perpetrators must be "brought to justice."
According to Lebanon's Health Ministry, 43 people were killed and nearly 240 people wounded when two large explosions, claimed by the Takfiri Daesh terrorist group, rocked a security post in the Borj al-Barajneh area in a southern suburb of the Lebanese capital, Beirut, on Thursday.
Ban "is deeply saddened at the reported high numbers of fatalities and injured, and extends his condolences to the families of the victims, and to the people and government of Lebanon," said a statement issued by Ban's spokesperson on Thursday.
The UN chief described the fatal bomb attacks as "despicable," calling for the perpetrators to be "swiftly brought to justice."
He further reiterated the world body's support for Lebanese institutions, including the armed forces and security services, in their efforts to protect the country, and underlined the need for all Lebanese parties to work together and preserve security and stability.
Earlier in the day, UN Special Representative in Lebanon Sigrid Kaag also denounced "the heinous" assaults, saying, "Lebanon's unity, stability and security need to be supported and shielded at all times."
Lebanon declared a day of national mourning on Friday following the terror attacks, which have drawn widespread condemnations from the country's senior officials as well as different countries, including Iran, France and the United States.
In a statement issued on Thursday, Lebanon's resistance movement Hezbollah slammed the attacks as a "crime," and vowed to continue its battle with terrorist groups.
The Lebanese army and Hezbollah resistance fighters have been carrying out operations against the terrorist groups of al-Nusra Front and Daesh in the Lebanese town of Arsal on the border with Syria. Hezbollah fighters have also been assisting the Syrian army in the latter's fight against the Takfiri militants in Syria.