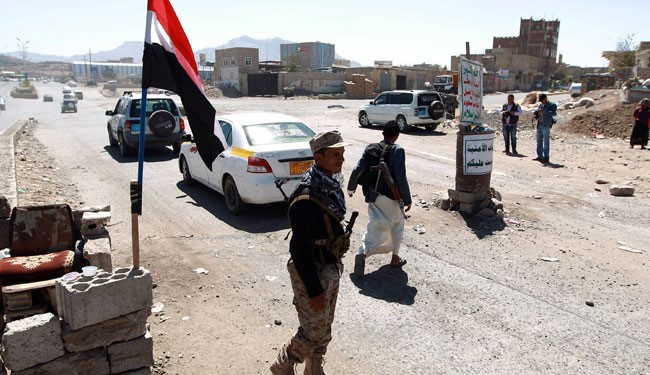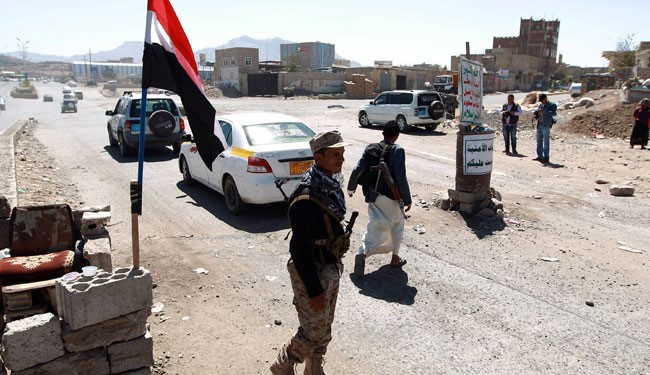 Al-Qaeda claimed its militants killed "dozens" of Shiite revolutionaries in Yemen on Saturday, hours after the formation of a new government intended to take the strife-torn country out of crisis.
The cabinet was formed shortly before the UN Security Council slapped sanctions against former president Ali Abdullah claiming he is behind the unrests. UN sanction also being applied to two senior members of the Houthi movement also callined Ansarullah.
And in apparent retaliation on Saturday, Saleh's General People's Congress party sacked from its leadership Yemeni President Abdrabuh Mansur Hadi, following accusations he solicited the sanctions.
Yemen has been dogged by instability since an Arab Spring-inspired uprising forced Saleh from power in February 2012, and the Shiite Huthi revolutionaries and Al-Qaeda have sought to step into the power vacuum.
In the latest violence, Al-Qaeda claimed twin attacks that it said killed "dozens" of Huthis in the central region of Rada, where the Sunni Muslim terrorists have halted a rapid territorial advance by their Shiite rivals.
The new government was formed as part of an UN-brokered peace deal under which the Huthis are supposed to withdraw from the capital Sanaa, which they seized control of in September.
Though the Huthis, who are also known as Ansarullah, are not directly represented in the new government, six of their members are considered close to the revolutionaries.
Washington, which sees Hadi as a key ally in the fight against Al-Qaeda, welcomed the new cabinet and encouraged the impoverished Arab nation to overcome partisan politics after the weeks of turmoil.
The US National Security Council called on all political actors "to continue to cooperate in the new government," according to spokeswoman Bernadette Meehan.
"This multi-party cabinet must represent the strength of Yemeni unity over individual and partisan interests that may seek to derail the goals of a nation."
On November 1, the main parties signed an agreement brokered by UN envoy to Yemen Jamal Benomar for the formation of a government of technocrats.
Under the accord, representatives of the rebels and their rivals, the Sunni Al-Islah (Reform) Islamic party, mandated Hadi to form a government and committed to support it.
In the wake of the new agreement, Benomar warned in an interview with AFP that without the rapid formation of a government, tensions between Shiites and Sunnis were likely to increase, sinking the country deeper into crisis.
On Saturday, however, Al-Qaeda said it launched two attacks against Huthi posts in Rada.
"Dozens of Huthis were killed and wounded," it said, when a militant rammed his explosives-laden car into a medical Centre administered by by Huthis in the region of Manaseh.
In another attack, Al-Qaeda militants opened fire on a building headquartered by Ansarullah in Jarrah valley, also near Rada, tribal sources and the terrorists group said.
An Al-Qaeda statement posted online said four of their members stormed the building.
supporters of Yemen's former president Ali Abdullah Saleh take part in a rally to protest threatened UN sanctions against the ousted strongman and insurgent chiefs on Friday in Tahrir Square in the capital Sanaa.
The turmoil has raised fears that the Arabian Peninsula nation, which neighbors oil-flush Saudi Arabia and lies on the key shipping route from the Suez Canal to the Persian Gulf, may become a failed state.
But in political arena Yemeni President Abd-Rabbu Mansour Hadi was ousted as leader of his own political party, the group said on Saturday, weakening his authority at a time of turmoil in the impoverished Arab nation.
The General People's Congress (GPC) has accused Hadi of backing U.N. sanctions against its influential former chief, Ali Abdullah Saleh, who ruled Yemen for 33 years before resigning in 2012 following mass street protests.
Hadi's dismissal as party chief came the day after he moved to end Yemen's latest political crisis by naming a new power-sharing government in the country, which is racked by religious and tribal violence.
"Losing this position leaves him without a power base outside the presidency. Previously he was speaking as both president and leader of one of the largest parties. Now he has lost this," said Mustafa Alani, a Persian Gulf-based security analyst.
Stability in Yemen is seen as important by the United States and neighboring Gulf oil producers, who fear a further collapse of order would allow the emergence of a failed state from which al Qaeda could plot international attacks.
The country's mismanagement and continued protest of people caused in late September, when the Shiite Muslim Houthi movement also called Ansarullah seized the capital Sanaa and expanded its control further south and west, leading to clashes with al Qaeda and allied Sunni tribes.
Hadi, named interim president in 2012 after Saleh quit, was never the main force in the GPC, but his leadership of the party bolstered his political authority.
His supporters now constitute a small minority in the 34-member cabinet, which contains nine GPC members and six members allied by the Houthi movement as well as blocs representing the country's other main political factions.